Product Details
Three suits in one! All encompassing for whatever the sky throws out; the fleece layer zips out to extend the life of the waterproof all-in-one outer layer so that it can be worn on more mild days. Both layers can be worn by themselves or together for a warm and waterproof all-in-one suit. Fully breathable which means it will keep your children warm and cozy without overheating when active outdoors at school.
Three in one: 100% waterproof, breathable and warm
Recycled materials: Outer layer is made using recycled fabrics
Removable fleece: Features an inner, removable fleece liner with Sherpa fleece hood
Foot straps: Adjustable elastic stirrups to be worn under sole of boot for best waterproof seal.
Cuffs: Elasticized wrist cuffs and dual storm flap to prevent the rain from getting in.
Durable: Hardwearing herringbone fabric
Multiple seasons: Can be worn 3 different ways
Water Column: 10,000mm
Material:
Outer: 100% recycled polyester, Lining: polyester
Washing instructions:
Machine wash on delicate inside out. Tumble dry no heat or line dry to preserve longevity and waterproofness of garment. This washing advice is true for all outerwear across all brands.
Style #:
RTWA1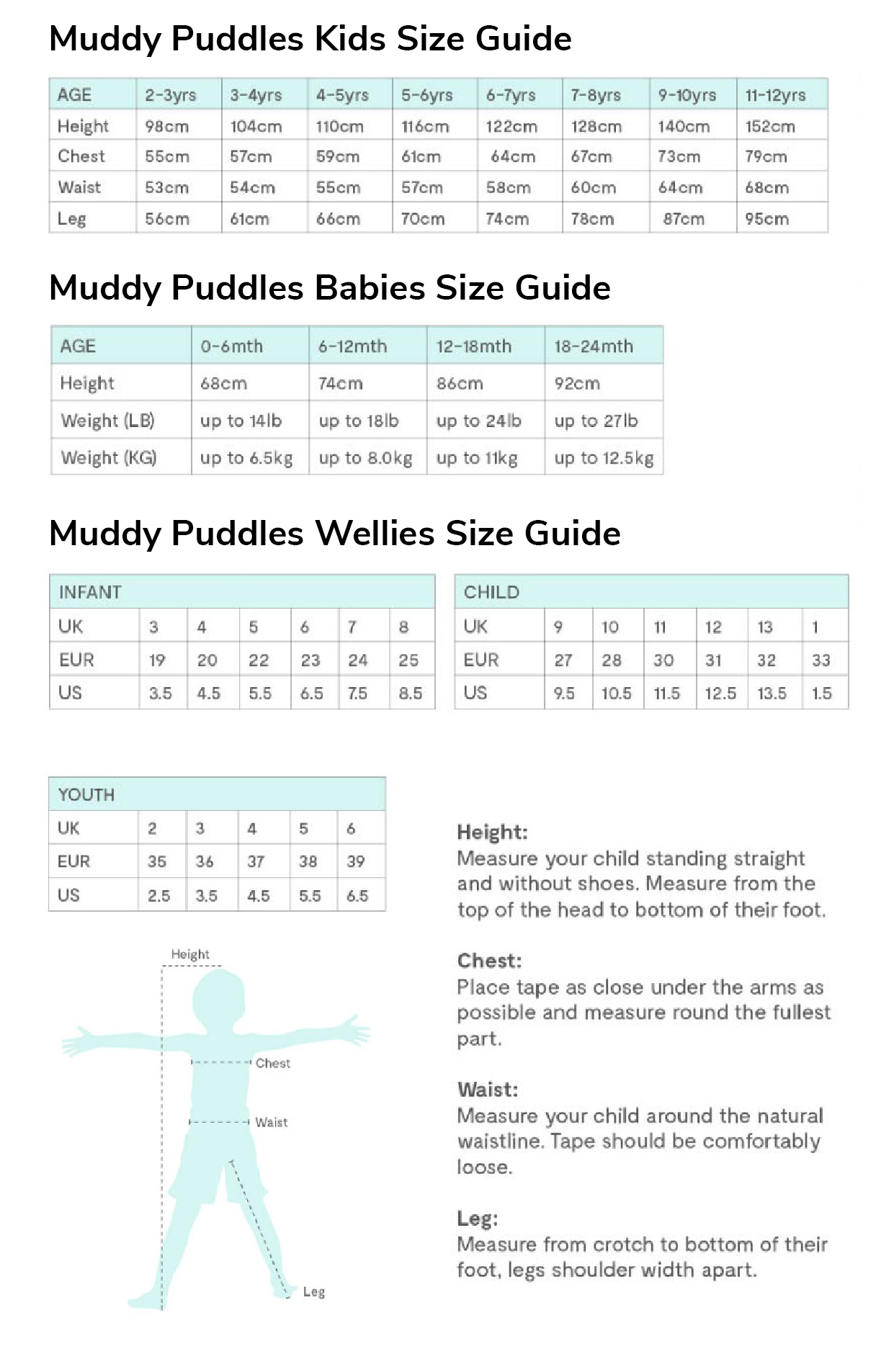 Sizing tip: We often use European sizing along with US sizing to help guide you to the right fit. In many cases, if you know your child's height, this actually can help guide you better than age. We did the work for you so you do not have to convert- use this chart to find their height. Outerwear is made to layer over clothes- getting this right should be all the work you need to do. When looking at boots, use current tennis shoe sizing. Boot sizes are in T (Toddler) and Y (Youth)- not by age.
| | | |
| --- | --- | --- |
| CM | Inches | Feet |
| 80 | 31.5 | 2.6 |
| 90 | 35.4 | 3.0 |
| 92 | 36.2 | 3.0 |
| 98 | 38.5 | 3.2 |
| 100 | 39.3 | 3.3 |
| 104 | 40.9 | 3.4 |
| 110 | 43.3 | 3.6 |
| 116 | 45.6 | 3.8 |
| 120 | 47.2 | 3.9 |
| 122 | 48 | 4.0 |
| 128 | 50.4 | 4.2 |
| 130 | 51.2 | 4.3 |
| 134 | 52.7 | 4.4 |
| 140 | 55.1 | 4.6 |
| 146 | 57.4 | 4.8 |
| 150 | 59 | 4.9 |
| 152 | 59.8 | 5.0 |
Nature School Staple
Outer layer made using Recycled
Elastic Cuffs