Product Details
This vegan friendly all-in-one rainsuit is perfect for jumping over puddles and crawling thru the wet underbrush at outdoor school. Easy to throw over whatever they are already wearing, its loose fit lets your child move freely and enjoy the rain, mud and dirt. It is also the perfect item to stash in their bag for impromtu rain, sand or dirt play to keep them dry and clean.
Features: Bonded, seam-sealed construction, PU coating and covered waterproof zippers
Vegan materials: Safe for your child and the planet; no harmful chemicals
Reflective piping: Added safety feature for extra visibility
Easy on and off: The dual zipper design makes potty breaks fast and easy
Wear it for longer: They grow and so does this rainsuit; loose fit and extendable cuff to grow with them
Lightweight and Foldable: Folds easily into a backpack and quickly goes over anything your child is wearing to stay clean and dry. No lining- this is meant to keep outside elements out layered over clothing.
Designed for rough play: This rain suit has reinforced knees and bottom to keep up with their active life.
Water Column: 5,000mm
Material:
100% Nylon coated ripstop
Washing instructions:
Machine wash on delicates' setting inside out. Tumble dry no heat or hang dry. Hang drying will maintain longevity of your outerwear.
Style #:
RSRBBL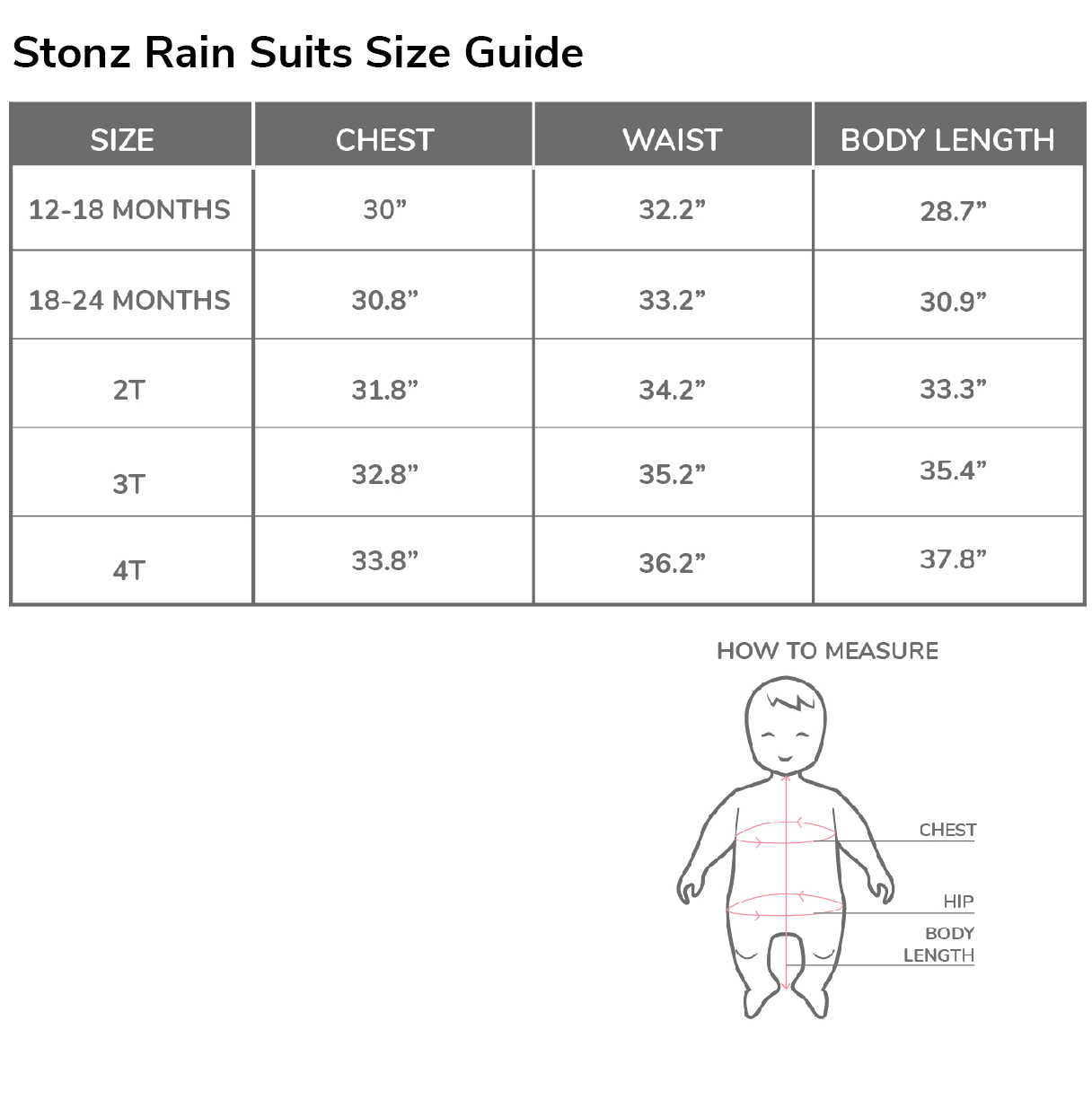 Sizing tip: We often use European sizing along with US sizing to help guide you to the right fit. In many cases, if you know your child's height, this actually can help guide you better than age. We did the work for you so you do not have to convert- use this chart to find their height. Outerwear is made to layer over clothes- getting this right should be all the work you need to do. When looking at boots, use current tennis shoe sizing. Boot sizes are in T (Toddler) and Y (Youth)- not by age.
| | | |
| --- | --- | --- |
| CM | Inches | Feet |
| 80 | 31.5 | 2.6 |
| 90 | 35.4 | 3.0 |
| 92 | 36.2 | 3.0 |
| 98 | 38.5 | 3.2 |
| 100 | 39.3 | 3.3 |
| 104 | 40.9 | 3.4 |
| 110 | 43.3 | 3.6 |
| 116 | 45.6 | 3.8 |
| 120 | 47.2 | 3.9 |
| 122 | 48 | 4.0 |
| 128 | 50.4 | 4.2 |
| 130 | 51.2 | 4.3 |
| 134 | 52.7 | 4.4 |
| 140 | 55.1 | 4.6 |
| 146 | 57.4 | 4.8 |
| 150 | 59 | 4.9 |
| 152 | 59.8 | 5.0 |
Vegan-friendly
Nature School Staple
Farm School Go-To
Bonded Seams
Elastic Cuffs and Ends
Reinforced knee
Reflective Details