Product Details
Muddy Puddles lined, waterproof, Ecolight all-in-one puddlesuit is designed to protect active children who love exploring the great outdoors even on rainy and muddy days. Made using recycled fabrics, this protective splash suit is designed to withstand rainy and windy weather throughout spring, summer and early autumn. Zip them up, match with a pair of wellies and your kid will be all set for the most wonderful outdoor adventure. Getting soggy or sweaty can quickly ruin the fun - but with this puddle suit your youngster will be neither! Plus the bright prints would put a smile on any face!
Details: Waterproof, windproof and breathable
Lining: Lined with soft grey marl cotton/polyester
Sizing: No need to size up, sizing is generous
Cuffs: Elasticized cuffs and hood
Packable: Packs into its own pocket
Breathable: Protects against the wind and rain while letting excess heat escape through micropores.
Zipper: The extra-long zip allows you to peel off the puddle suit easily without getting everything else wet
Water Column: 8000mm
Material:
100% recycled polyester, Lining - 50% cotton, 50% polyester
Washing instructions:
Machine wash on delicate inside out. Tumble dry no heat or line dry to preserve longevity and waterproofness of garment. This washing advice is true for all outerwear across all brands.
Country of Origin:
China
Style #:
ECOAIO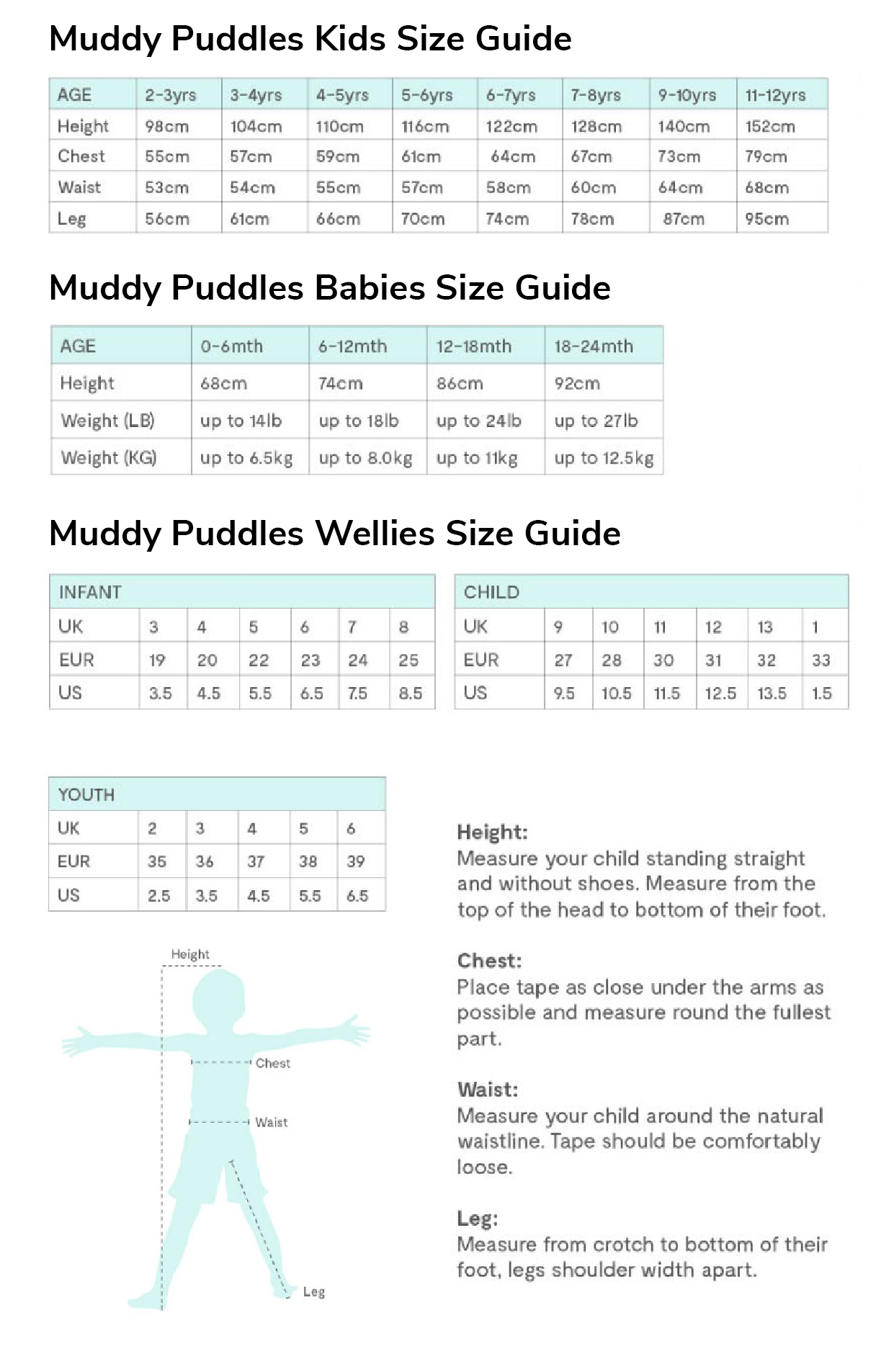 Sizing tip: We often use European sizing along with US sizing to help guide you to the right fit. In many cases, if you know your child's height, this actually can help guide you better than age. We did the work for you so you do not have to convert- use this chart to find their height. Outerwear is made to layer over clothes- getting this right should be all the work you need to do. When looking at boots, use current tennis shoe sizing. Boot sizes are in T (Toddler) and Y (Youth)- not by age.
| | | |
| --- | --- | --- |
| CM | Inches | Feet |
| 80 | 31.5 | 2.6 |
| 90 | 35.4 | 3.0 |
| 92 | 36.2 | 3.0 |
| 98 | 38.5 | 3.2 |
| 100 | 39.3 | 3.3 |
| 104 | 40.9 | 3.4 |
| 110 | 43.3 | 3.6 |
| 116 | 45.6 | 3.8 |
| 120 | 47.2 | 3.9 |
| 122 | 48 | 4.0 |
| 128 | 50.4 | 4.2 |
| 130 | 51.2 | 4.3 |
| 134 | 52.7 | 4.4 |
| 140 | 55.1 | 4.6 |
| 146 | 57.4 | 4.8 |
| 150 | 59 | 4.9 |
| 152 | 59.8 | 5.0 |
Nature School Staple
Fully Taped Seams
Recycled Materials
Elastic Cuffs and Hood