Product Details
The Oaki adult one-piece suit is finally here- a versatile outer layer for adventuring in any weather. The suit is lightweight, packable, and seam-sealed with adjustable waist cinch. Reflective safety strips ensure better visibility. Waterproof center zipper and velcro arm cuffs keep clothes dry. Neoprene cuffs provide for a secure fit around boots.
Keep water out: Tough nylon/ polyester outer with membrane waterproofing and DWR coated for additional water resistance.
Fit: Adjustable drawstring waist cinch and neoprene cuffs for flexible fit
Reflective: Reflective tape on arms and chest for visibility
Breathable: It breaths so kids can wear all year to stay dry and clean from dirt and mud even if the rain has stopped.
Zipper: Waterproof center zipper
Hood: Attached hood
Details: PVC and BPA free
Water Column: 8,000mm
Material:
Nylon / Polyester outer with membrane waterproofing
Washing instructions:
Hand wash preferred or hose down more easily. Machine wash gentle inside out, if required.
Country of Origin:
Imported
Style #:
235A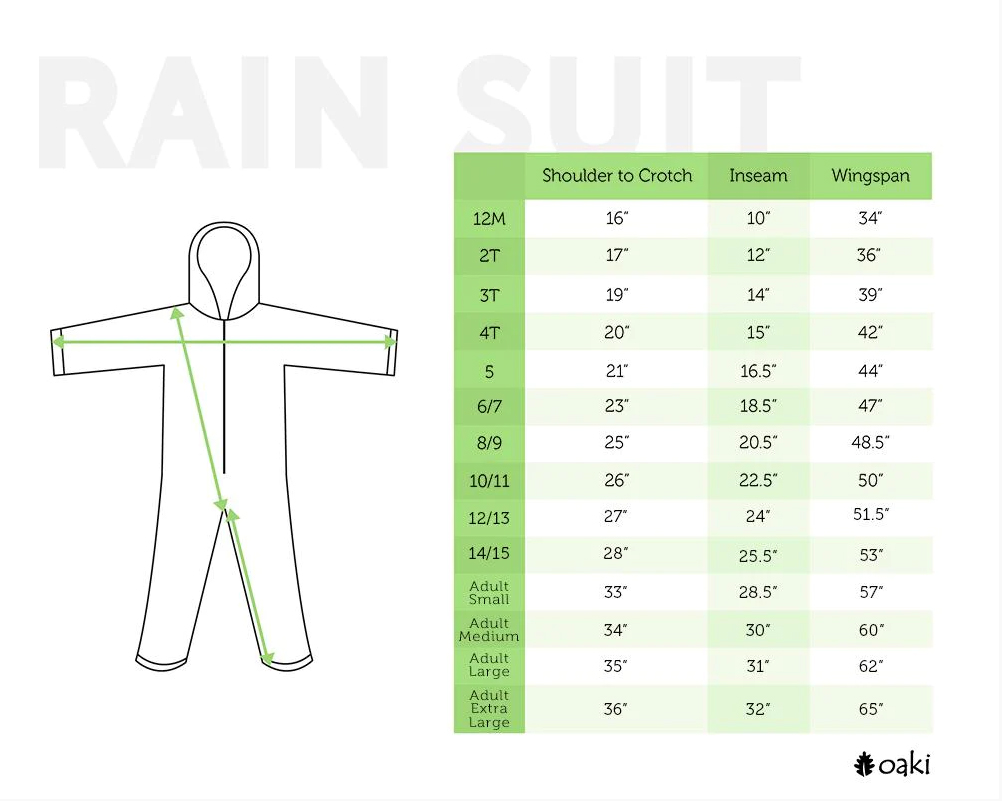 Sizing tip: We often use European sizing along with US sizing to help guide you to the right fit. In many cases, if you know your child's height, this actually can help guide you better than age. We did the work for you so you do not have to convert- use this chart to find their height. Outerwear is made to layer over clothes- getting this right should be all the work you need to do. When looking at boots, use current tennis shoe sizing. Boot sizes are in T (Toddler) and Y (Youth)- not by age.
| | | |
| --- | --- | --- |
| CM | Inches | Feet |
| 80 | 31.5 | 2.6 |
| 90 | 35.4 | 3.0 |
| 92 | 36.2 | 3.0 |
| 98 | 38.5 | 3.2 |
| 100 | 39.3 | 3.3 |
| 104 | 40.9 | 3.4 |
| 110 | 43.3 | 3.6 |
| 116 | 45.6 | 3.8 |
| 120 | 47.2 | 3.9 |
| 122 | 48 | 4.0 |
| 128 | 50.4 | 4.2 |
| 130 | 51.2 | 4.3 |
| 134 | 52.7 | 4.4 |
| 140 | 55.1 | 4.6 |
| 146 | 57.4 | 4.8 |
| 150 | 59 | 4.9 |
| 152 | 59.8 | 5.0 |
Nature School Staple
Farm School Go-To
Fully Taped Seams
Neoprene Cuffs
Reinforced Knee and Seat
Reflective Details