Product Details
A Helly Hansen best selling kids' winter snow insulated and waterproof bib for any outdoor activity including all day outdoor school. Adjustable suspenders, velcro bottoms, elasticized sides for extra comfort and extendable leg length are just some of the features built into this great winter pant.
PrimaLoft insulation: Will keep children warm and dry the whole school day.
Foot Strap: Boot gaiter and inner bottom leg in water repellant fabric for extra protection
Reinforced: Extra durable fabric on seat, knees and bottom legs
Details: Waterproof, windproof and breathable
HELLY TECH Performance: Both waterproof with breathable
Fully seam sealed: Keep water out
Adjustable: Adjustable bottom leg tab with Velcro fastener on back of boot
Water Column: 15,000 mm. Breathability: 10,000 g/m2. Primaloft insulation
Material:
Face: 100% Polyamide, Back: 100% Polyurethane
Washing instructions:
Machine wash on delicate inside out. Tumble dry no heat or line dry to preserve longevity and waterproofness of garment. This washing advice is true for all outerwear across all brands.
Style #:
40342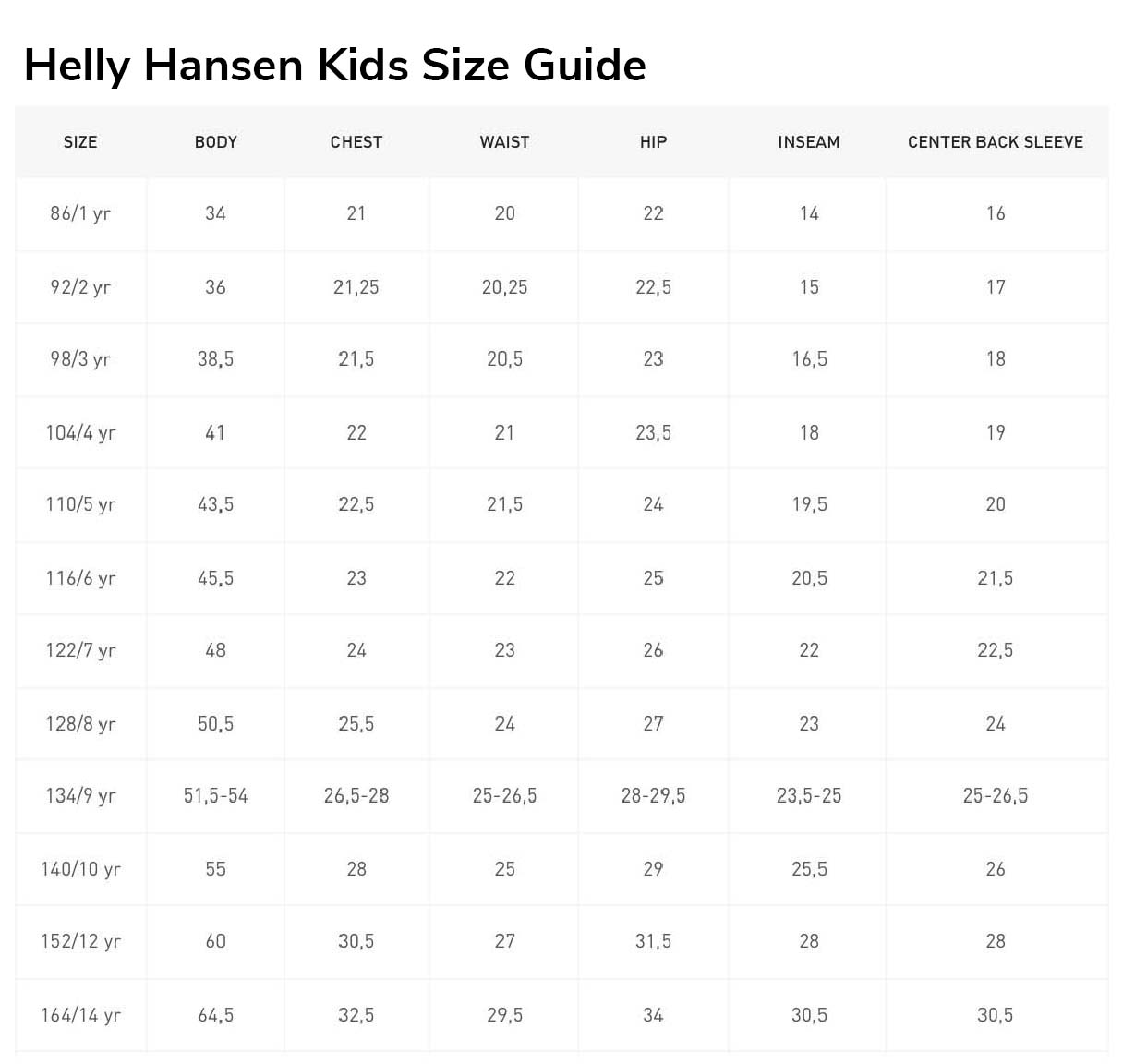 Sizing tip: We often use European sizing along with US sizing to help guide you to the right fit. In many cases, if you know your child's height, this actually can help guide you better than age. We did the work for you so you do not have to convert- use this chart to find their height. Outerwear is made to layer over clothes- getting this right should be all the work you need to do. When looking at boots, use current tennis shoe sizing. Boot sizes are in T (Toddler) and Y (Youth)- not by age.
| | | |
| --- | --- | --- |
| CM | Inches | Feet |
| 80 | 31.5 | 2.6 |
| 90 | 35.4 | 3.0 |
| 92 | 36.2 | 3.0 |
| 98 | 38.5 | 3.2 |
| 100 | 39.3 | 3.3 |
| 104 | 40.9 | 3.4 |
| 110 | 43.3 | 3.6 |
| 116 | 45.6 | 3.8 |
| 120 | 47.2 | 3.9 |
| 122 | 48 | 4.0 |
| 128 | 50.4 | 4.2 |
| 130 | 51.2 | 4.3 |
| 134 | 52.7 | 4.4 |
| 140 | 55.1 | 4.6 |
| 146 | 57.4 | 4.8 |
| 150 | 59 | 4.9 |
| 152 | 59.8 | 5.0 |
Forest School Approved
Fully Taped Seams
Elastic & velcro cuff closures
Reinforced fabric
Reflective Details