Product Details
A fully waterproof rain suit with welded seams makes sure your little ones stay perfectly dry in the rain at outdoor school. The Roiske rain suit is made with no harmful chemicals and the reflective details make sure your child remains visible and safe at all times. The seams are waterproof and the flexible material wont harden in the frost, so its usable all year long, as mid-season protection and even as a snowsuit. Reima rainwear materials come without harmful PVC. The safe, detachable hood protects from heavy showers. A full-length zip-up front and lots of reflective details complete the look. Rainy days, here we come! Room to Grow: All Reima products run about one size larger than traditional US sizes so ordering your child's current size is like ordering a size up.
Waterproof, welded seams: Keep the water out!
Lining: Smooth polyester knit lining
Hood: Detachable hood for versatility and safety. FOUNDIT15
Cuffs: Elasticized sleeve and leg cuffs
Foot straps: Detachable elastic boot straps. Wear under sole of boot to achieve best waterproof seal
Reflective: Reflecting details for added security
Use longer: Waterproof seams and flexible material will not harden in the frost, so it is usable all year long
Water Column: 10,000mm
Material:
100% polyester, polyurethane coating
Washing instructions:
Wash separately inside out. Close zippers and Velcro tapes.
Style #:
520278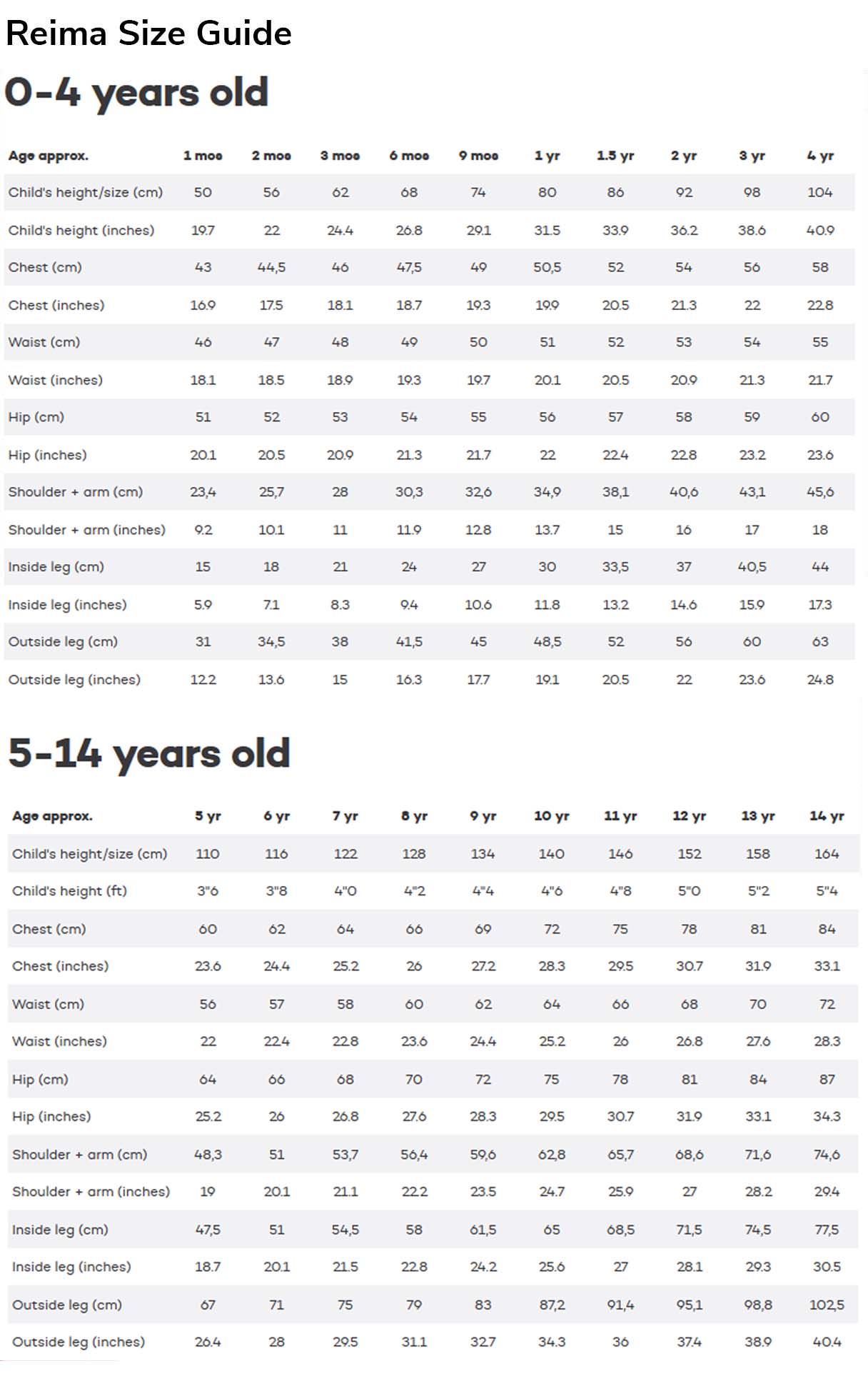 Sizing tip: We often use European sizing along with US sizing to help guide you to the right fit. In many cases, if you know your child's height, this actually can help guide you better than age. We did the work for you so you do not have to convert- use this chart to find their height. Outerwear is made to layer over clothes- getting this right should be all the work you need to do. When looking at boots, use current tennis shoe sizing. Boot sizes are in T (Toddler) and Y (Youth)- not by age.
| | | |
| --- | --- | --- |
| CM | Inches | Feet |
| 80 | 31.5 | 2.6 |
| 90 | 35.4 | 3.0 |
| 92 | 36.2 | 3.0 |
| 98 | 38.5 | 3.2 |
| 100 | 39.3 | 3.3 |
| 104 | 40.9 | 3.4 |
| 110 | 43.3 | 3.6 |
| 116 | 45.6 | 3.8 |
| 120 | 47.2 | 3.9 |
| 122 | 48 | 4.0 |
| 128 | 50.4 | 4.2 |
| 130 | 51.2 | 4.3 |
| 134 | 52.7 | 4.4 |
| 140 | 55.1 | 4.6 |
| 146 | 57.4 | 4.8 |
| 150 | 59 | 4.9 |
| 152 | 59.8 | 5.0 |
PVC Free
Forest School Approved
Welded Seams
Recycled Material
Elastic Cuffs and Ends
Reflective Details