Product Details
With light cushioning on the entire bottom of the foot, our Kids' Hike Light Cushion Striped Crew Socks are created to help kids love the hike and any time they are on their feet, in fact! The socks are made from responsibly sourced Merino wool, for natural odor control, temperature regulation, and breathability. Plus, they are designed for a perfect fit on the foot and in the shoe or boot, and they have a flat knit toe seam and an elasticized arch brace for comfort and support. To top it all off, their stripey design adds style for any fashion-focused young outdoor school student.
Sock Height: Crew
Elite Fit: 4 Degree elite fit system for a dialed-in, performance oriented fit
Breathable: Additional body-mapped mesh zones for added breathability
Seamless: Virtually Seamless toe for enhanced comfort
Indestructawool: Technology with extended durability zones
Stay put: Comfort welt with 'stay put' fit
Elasticized: Elasticized arch brace
Material:
58% Merino Wool, 13% Nylon, 27% Recycled Nylon, 2% Elastane
Washing instructions:
Machine wash warm, inside out. Do not bleach. Tumble dry low. Do not iron. Do not dry clean
Country of Origin:
USA of Imported Yarns
Style #:
SW001693J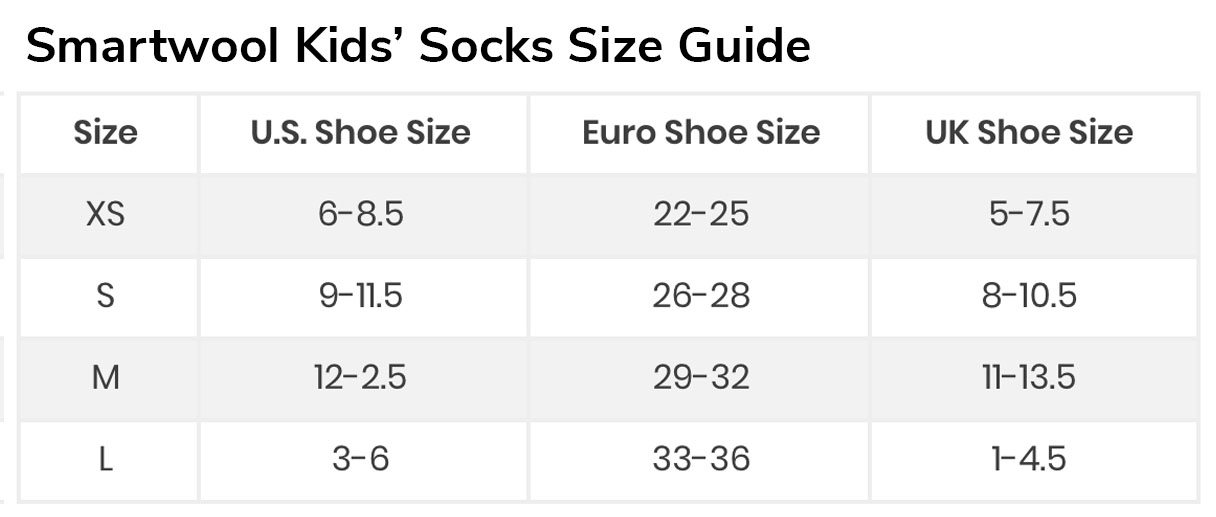 Sizing tip: We often use European sizing along with US sizing to help guide you to the right fit. In many cases, if you know your child's height, this actually can help guide you better than age. We did the work for you so you do not have to convert- use this chart to find their height. Outerwear is made to layer over clothes- getting this right should be all the work you need to do. When looking at boots, use current tennis shoe sizing. Boot sizes are in T (Toddler) and Y (Youth)- not by age.
| | | |
| --- | --- | --- |
| CM | Inches | Feet |
| 80 | 31.5 | 2.6 |
| 90 | 35.4 | 3.0 |
| 92 | 36.2 | 3.0 |
| 98 | 38.5 | 3.2 |
| 100 | 39.3 | 3.3 |
| 104 | 40.9 | 3.4 |
| 110 | 43.3 | 3.6 |
| 116 | 45.6 | 3.8 |
| 120 | 47.2 | 3.9 |
| 122 | 48 | 4.0 |
| 128 | 50.4 | 4.2 |
| 130 | 51.2 | 4.3 |
| 134 | 52.7 | 4.4 |
| 140 | 55.1 | 4.6 |
| 146 | 57.4 | 4.8 |
| 150 | 59 | 4.9 |
| 152 | 59.8 | 5.0 |
Nature School Staple
Farm School Go-To
Forest School Approved