Product Details
Long cuff warm winter mittens feature 3M Thinsulate technology, fleece lining, a waterproof layer inside, polyester vegan insulation and over-arm coverage. Your little explorers hands will stay cozy In the winter, without the bulkiness! Easy pull on style. Teacher approved!
Waterproof and wind-resistant: Features wind resistant 600D nylon waterproof coated exterior and an inner waterproof liner.
Running kids not noses: Nose wipe fleece on thumb for runny noses
Long cuff design: Covers arms and secures over jacket
Adjustable elastics with toggles: Secures to provide the perfect fit
Non-toxic, vegan materials: Keep your kids and the planet safe.
Warm: 3M thinsulate technology, fleece lining and extra wide over-arm coverage, these are temp rate to -4F
No more lost mittens: These clip together to ensure you can always find them
Water Column: 8000mm
Material:
420 Denier Nylon coated with DWR . 100% Polyester lining: PU waterproof layer inside. 100% Polyester vegan insulation
Washing instructions:
Machine-washable and hang to dry
Country of Origin:
China
Style #:
MYACEGBZ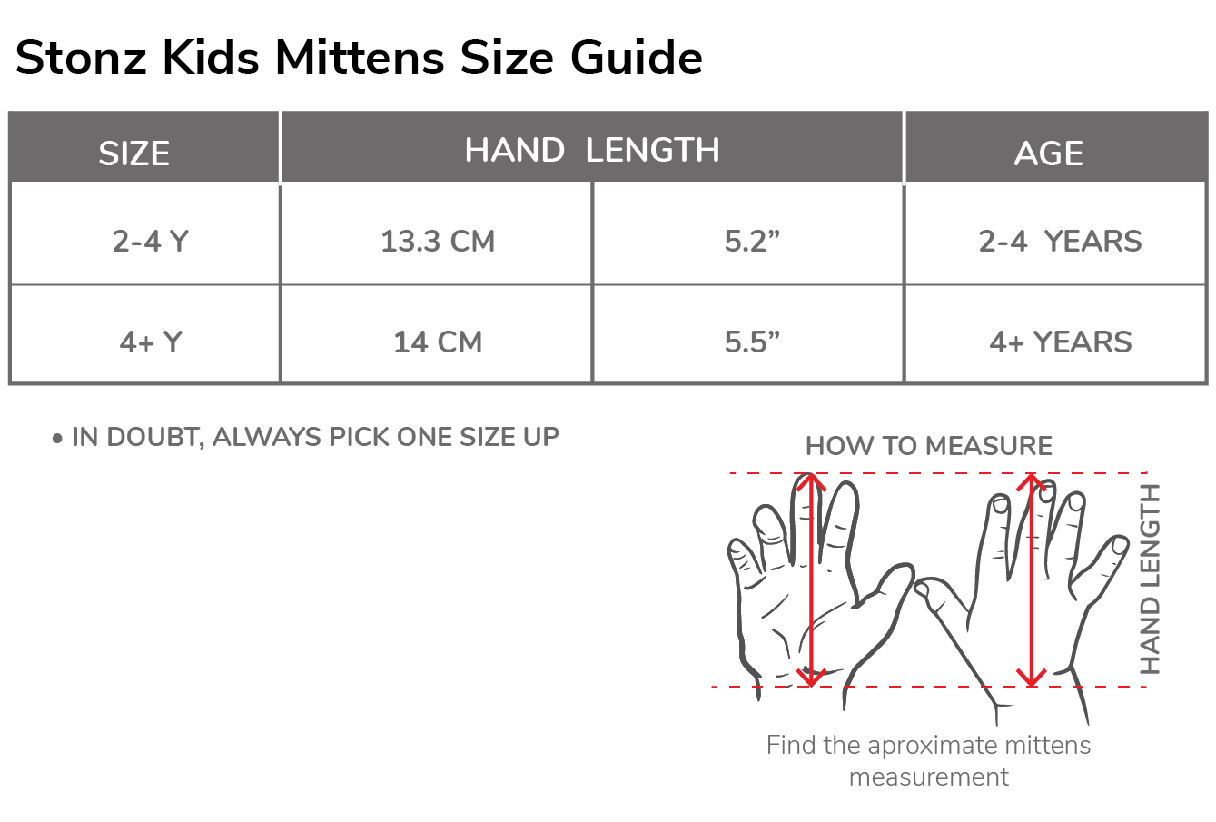 Sizing tip: We often use European sizing along with US sizing to help guide you to the right fit. In many cases, if you know your child's height, this actually can help guide you better than age. We did the work for you so you do not have to convert- use this chart to find their height. Outerwear is made to layer over clothes- getting this right should be all the work you need to do. When looking at boots, use current tennis shoe sizing. Boot sizes are in T (Toddler) and Y (Youth)- not by age.
| | | |
| --- | --- | --- |
| CM | Inches | Feet |
| 80 | 31.5 | 2.6 |
| 90 | 35.4 | 3.0 |
| 92 | 36.2 | 3.0 |
| 98 | 38.5 | 3.2 |
| 100 | 39.3 | 3.3 |
| 104 | 40.9 | 3.4 |
| 110 | 43.3 | 3.6 |
| 116 | 45.6 | 3.8 |
| 120 | 47.2 | 3.9 |
| 122 | 48 | 4.0 |
| 128 | 50.4 | 4.2 |
| 130 | 51.2 | 4.3 |
| 134 | 52.7 | 4.4 |
| 140 | 55.1 | 4.6 |
| 146 | 57.4 | 4.8 |
| 150 | 59 | 4.9 |
| 152 | 59.8 | 5.0 |
Non-toxic
Vegan Friendly
Forest School Approved
Reinforced fabric designed for heavy use