Product Details
This soft fleece mid-layer set for toddlers can be worn underneath outerwear to keep your child warm on frosty winter days. It's also great for indoors! The upper section of this two-piece set has a full-length zip for easy dressing and a chin guard protects necks from being scratched by the zip. Its fitted longer back hem provides extra coverage. The soft material of this toddler base-layer set looks knitted, yet offers all the benefits of fleece: it feels comfortable against skin and dries quickly by transporting moisture to the outer layers. Room to Grow: All Reima products run about one size larger than traditional US sizes so ordering your child's current size is like ordering a size up.
Two piece set: Perfect mid layer set
Quick dry: Warm, yet dries quickly
Hems: Elasticized hem, sleeve and leg cuffs
Elastic waist
Longer back hem: Provides more coverage from the elements
Chin guard: Protects delicate necks and chin
2-piece set: Zippered jacket and pants
Material:
100% polyester
Washing instructions:
Wash with similar colors, inside out. Close zippers when washing.
Style #:
516598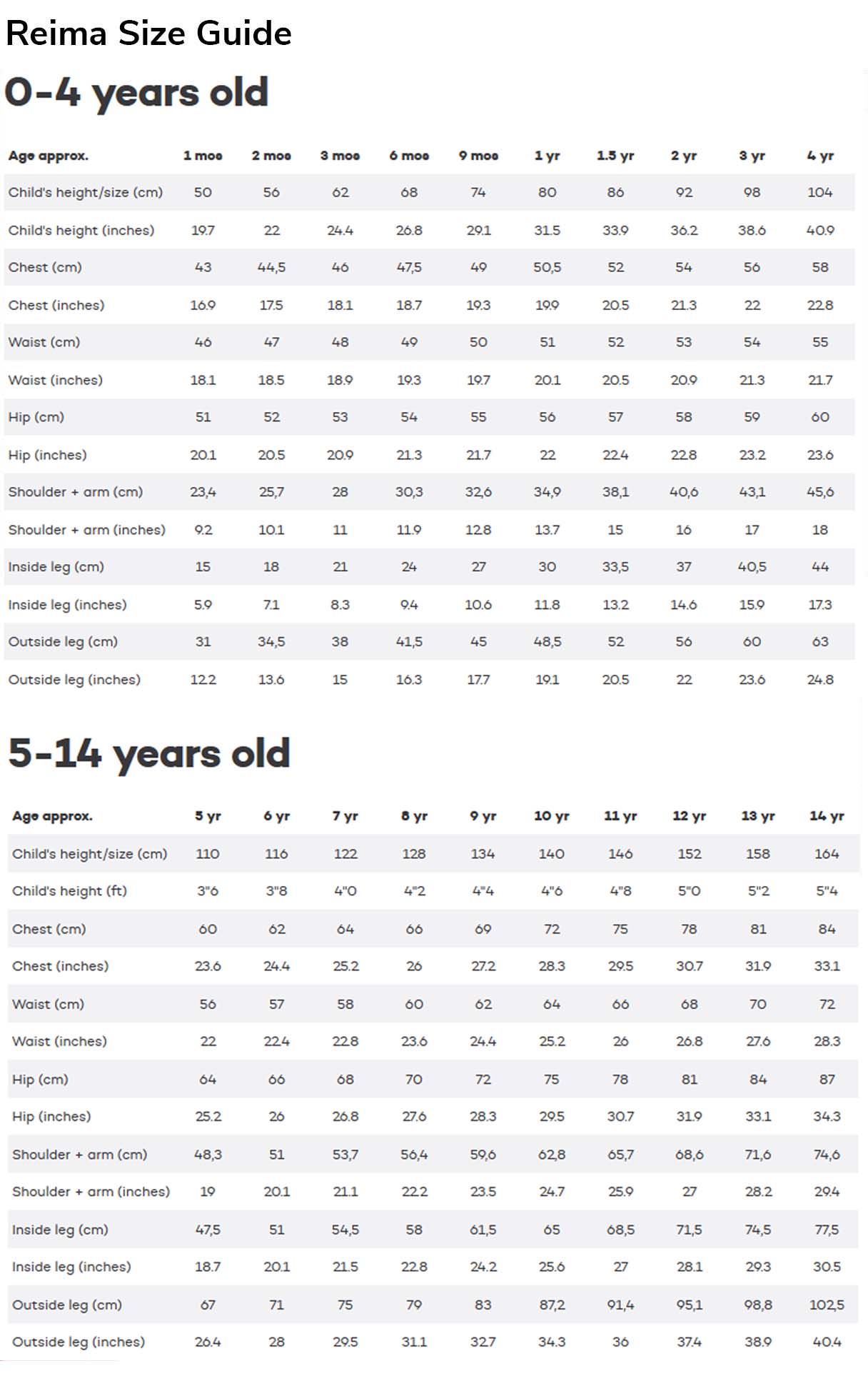 Sizing tip: We often use European sizing along with US sizing to help guide you to the right fit. In many cases, if you know your child's height, this actually can help guide you better than age. We did the work for you so you do not have to convert- use this chart to find their height. Outerwear is made to layer over clothes- getting this right should be all the work you need to do. When looking at boots, use current tennis shoe sizing. Boot sizes are in T (Toddler) and Y (Youth)- not by age.
| | | |
| --- | --- | --- |
| CM | Inches | Feet |
| 80 | 31.5 | 2.6 |
| 90 | 35.4 | 3.0 |
| 92 | 36.2 | 3.0 |
| 98 | 38.5 | 3.2 |
| 100 | 39.3 | 3.3 |
| 104 | 40.9 | 3.4 |
| 110 | 43.3 | 3.6 |
| 116 | 45.6 | 3.8 |
| 120 | 47.2 | 3.9 |
| 122 | 48 | 4.0 |
| 128 | 50.4 | 4.2 |
| 130 | 51.2 | 4.3 |
| 134 | 52.7 | 4.4 |
| 140 | 55.1 | 4.6 |
| 146 | 57.4 | 4.8 |
| 150 | 59 | 4.9 |
| 152 | 59.8 | 5.0 |
Nature School Staple
Forest School Approved
Recycled Material
Elastic Cuffs and Ends