Product Details
Reima proudly presents its 360 degree reflective hat! This winter hat is made from a reflective fabric, so it helps improve your children's safety when it is dark outside! The soft knit lining is warm and faux fur is an added touch. A real must-have for winter! It's also CE certified, so it meets health, safety and environmental protection standards imposed in the European Union.
Reflective: Material is reflective and the product has been certified as personal protective equipment
Full lining: Soft, warm fleece
Faux fur: Textile fur lining
Strap: Closure strap with press snaps
Insulation: Hat is insulated and lined
Highly Reflective: When worn according to instructions, this reflective hat can help drivers of motor vehicles equipped with headlights detect children.
Material:
100% polyamide, Lining: 100% Polyester
Washing instructions:
Wash separately. Dry low or hang dry for best results and preservation of reflective elements.
Style #:
528673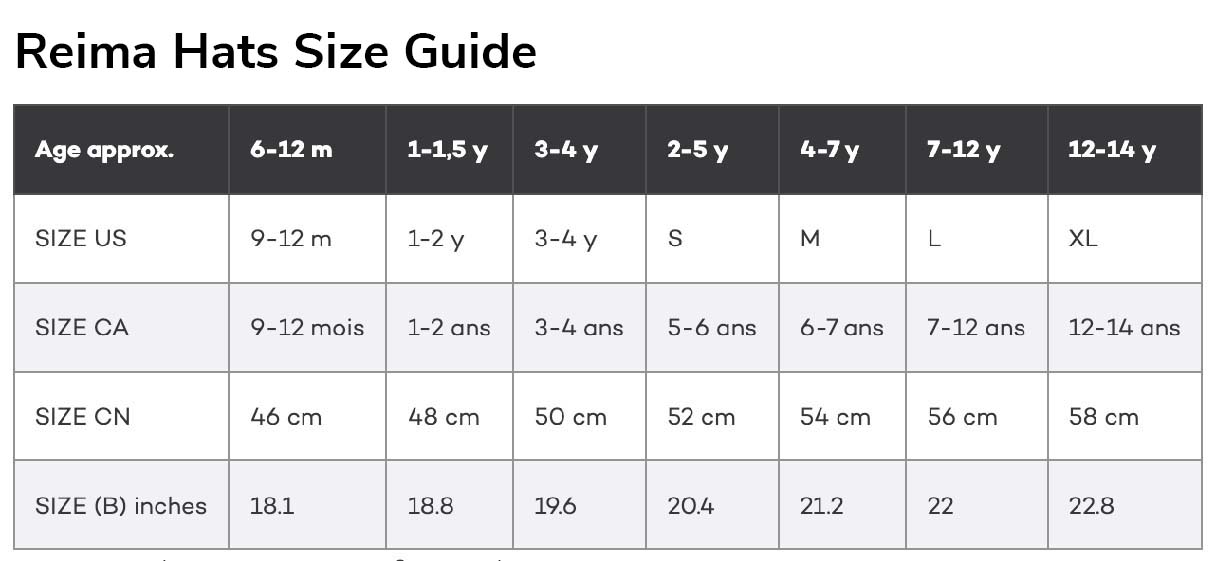 Sizing tip: We often use European sizing along with US sizing to help guide you to the right fit. In many cases, if you know your child's height, this actually can help guide you better than age. We did the work for you so you do not have to convert- use this chart to find their height. Outerwear is made to layer over clothes- getting this right should be all the work you need to do. When looking at boots, use current tennis shoe sizing. Boot sizes are in T (Toddler) and Y (Youth)- not by age.
| | | |
| --- | --- | --- |
| CM | Inches | Feet |
| 80 | 31.5 | 2.6 |
| 90 | 35.4 | 3.0 |
| 92 | 36.2 | 3.0 |
| 98 | 38.5 | 3.2 |
| 100 | 39.3 | 3.3 |
| 104 | 40.9 | 3.4 |
| 110 | 43.3 | 3.6 |
| 116 | 45.6 | 3.8 |
| 120 | 47.2 | 3.9 |
| 122 | 48 | 4.0 |
| 128 | 50.4 | 4.2 |
| 130 | 51.2 | 4.3 |
| 134 | 52.7 | 4.4 |
| 140 | 55.1 | 4.6 |
| 146 | 57.4 | 4.8 |
| 150 | 59 | 4.9 |
| 152 | 59.8 | 5.0 |
Oeko-Tex Standard 100
PFC Free
Forest School Approved
Fully Taped Seams
Reflective 360 degrees