Product Details
Pulling on their snow boots is a breeze in the Bogs Snow Shell Winter Boot, perfect for the type of winter program that goes in and out during the day.
Insole: Removable Insole
Max Wick: Moisture-absorbing Max-Wick technology pulls perspiration away from little feet to keep them drier longer
Waterproof: Dependable waterproof rubber upper designed with four-way stretch inner bootie
Easy On: Pull-on closure with a bungee cord
Design: Raised round toe silhouette; ankle-length boots
Material:
55% Rubber, 45% Textile
Washing instructions:
Wipe clean with damp cloth
Country of Origin:
Imported
Style #:
72868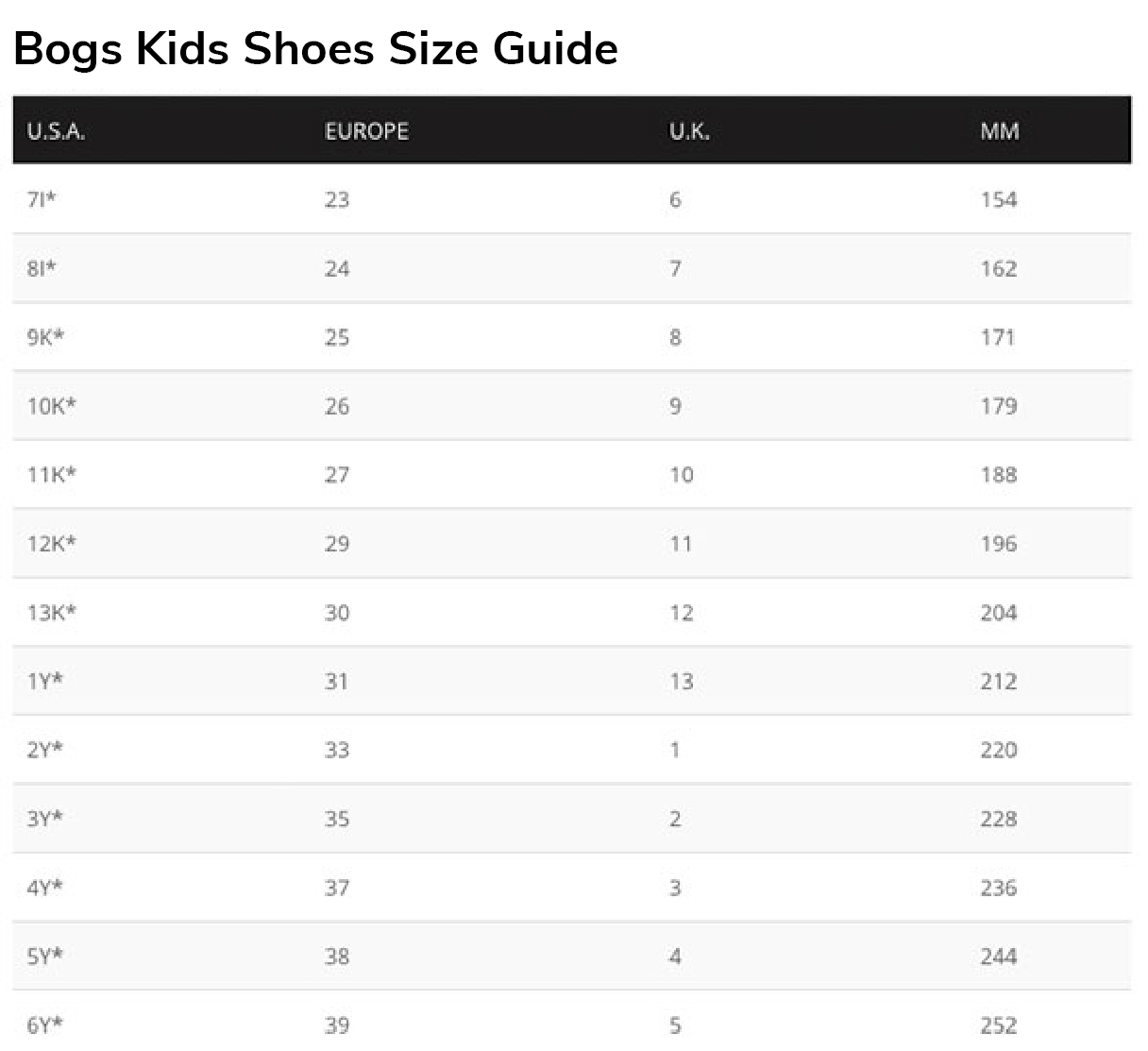 Sizing tip: We often use European sizing along with US sizing to help guide you to the right fit. In many cases, if you know your child's height, this actually can help guide you better than age. We did the work for you so you do not have to convert- use this chart to find their height. Outerwear is made to layer over clothes- getting this right should be all the work you need to do. When looking at boots, use current tennis shoe sizing. Boot sizes are in T (Toddler) and Y (Youth)- not by age.
| | | |
| --- | --- | --- |
| CM | Inches | Feet |
| 80 | 31.5 | 2.6 |
| 90 | 35.4 | 3.0 |
| 92 | 36.2 | 3.0 |
| 98 | 38.5 | 3.2 |
| 100 | 39.3 | 3.3 |
| 104 | 40.9 | 3.4 |
| 110 | 43.3 | 3.6 |
| 116 | 45.6 | 3.8 |
| 120 | 47.2 | 3.9 |
| 122 | 48 | 4.0 |
| 128 | 50.4 | 4.2 |
| 130 | 51.2 | 4.3 |
| 134 | 52.7 | 4.4 |
| 140 | 55.1 | 4.6 |
| 146 | 57.4 | 4.8 |
| 150 | 59 | 4.9 |
| 152 | 59.8 | 5.0 |
Non-toxic
PFC Free
PVC Free
Nature School Staple
Farm School Go-To
Toggle pull closure