Product Details
A classic rain set for even the heaviest of storms. This 2-piece set comes with a jacket and adjustable bibs in Helly Hansen's most waterproof material guaranteed to bring your child home happy, warm and dry from outdoor school.
100% Waterproof: Jacket and elastic suspender bibs with adjustment possibilities. This is an unlined shell meant to keep elements out.
Hood: Detachable and elasticized hood that keeps rain off their face
HELOX technology: Helly Hansen's most waterproof fabric
Windproof: Fully windproof
Quick dry inside: Keeps child warm and dry
Welded Seams: For long-term strength and weather proofing
Foot straps: Elastic rubber strap under foot for secure fit - wear under the sole of boot. It will wear out with use and replacements are available.
Water Column: 20000mm
Material:
100% Polyurethane
Washing instructions:
Machine wash on delicate inside out and tumble dry no heat or better yet, hang dry! Whenever possible we recommend you wipe down your rain gear. Minimizing on washing increases the longevity of your outerwear and is good for the environment!
Country of Origin:
Imported
Style #:
40510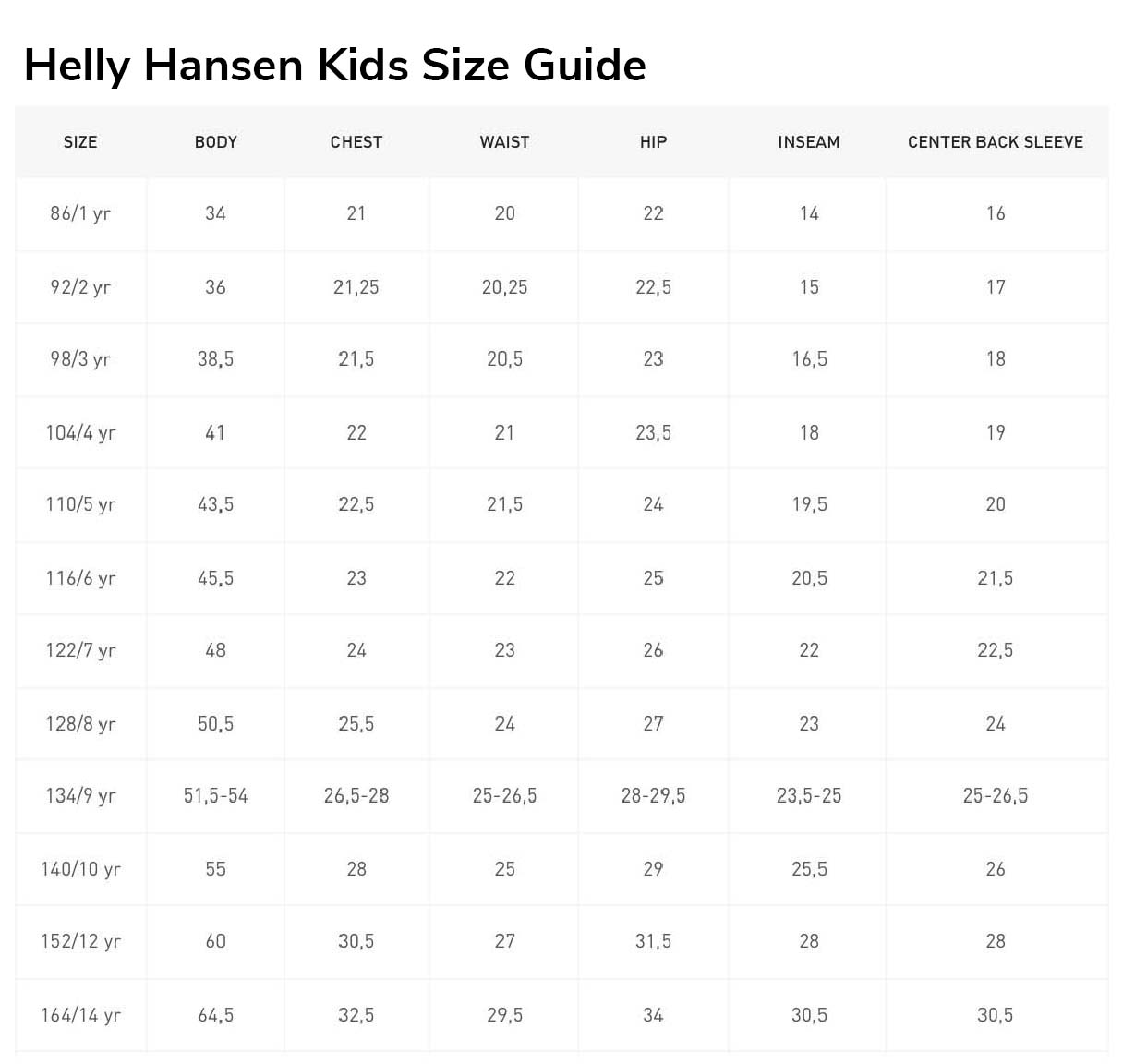 Sizing tip: We often use European sizing along with US sizing to help guide you to the right fit. In many cases, if you know your child's height, this actually can help guide you better than age. We did the work for you so you do not have to convert- use this chart to find their height. Outerwear is made to layer over clothes- getting this right should be all the work you need to do. When looking at boots, use current tennis shoe sizing. Boot sizes are in T (Toddler) and Y (Youth)- not by age.
| | | |
| --- | --- | --- |
| CM | Inches | Feet |
| 80 | 31.5 | 2.6 |
| 90 | 35.4 | 3.0 |
| 92 | 36.2 | 3.0 |
| 98 | 38.5 | 3.2 |
| 100 | 39.3 | 3.3 |
| 104 | 40.9 | 3.4 |
| 110 | 43.3 | 3.6 |
| 116 | 45.6 | 3.8 |
| 120 | 47.2 | 3.9 |
| 122 | 48 | 4.0 |
| 128 | 50.4 | 4.2 |
| 130 | 51.2 | 4.3 |
| 134 | 52.7 | 4.4 |
| 140 | 55.1 | 4.6 |
| 146 | 57.4 | 4.8 |
| 150 | 59 | 4.9 |
| 152 | 59.8 | 5.0 |
Nature School Staple
Farm School Go-To
Forest School Approved
Welded Seams
Elastic Arm and Leg Cuffs
Reflective Details
Quick Dry Lining