Product Details
OAKI loop handle rain boots are designed to keep feet dry and comfortable in the muckiest of puddles, so your little adventurer can play and learn outside all day in any weather!
Dry feet: 100% rubber exterior repells water and keeps feet dry, offers superior flex and reduces odor.
Ergonomic: Zero-drop heel helps children develop strength and stability and encourages good posture.
Easy-on: Loop handles help kids get their boots on independently. Teachers will love this!
Lightweight: Design makes walking easier and lets kids keep moving longer without feeling weighed down
Safe: Complete rubber exterior with extra deep tread for traction on wet surfaces
Handles: Reinforced handles for easy wearing and toting
Keep water out: High cut off point to keep water out
Material:
100% Natural Rubber
Washing instructions:
Wipe Clean
Style #:
11544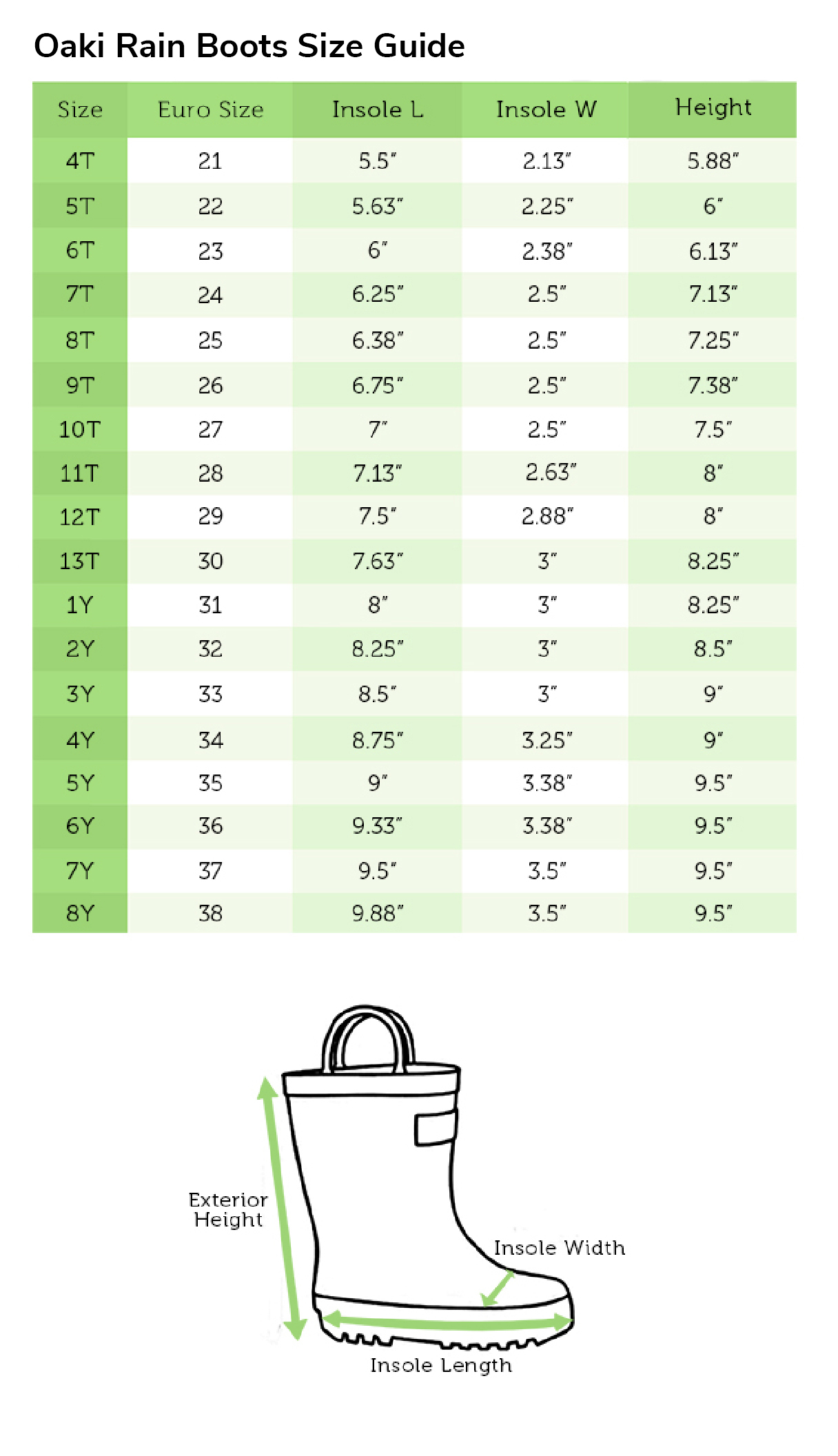 Sizing tip: We often use European sizing along with US sizing to help guide you to the right fit. In many cases, if you know your child's height, this actually can help guide you better than age. We did the work for you so you do not have to convert- use this chart to find their height. Outerwear is made to layer over clothes- getting this right should be all the work you need to do. When looking at boots, use current tennis shoe sizing. Boot sizes are in T (Toddler) and Y (Youth)- not by age.
| | | |
| --- | --- | --- |
| CM | Inches | Feet |
| 80 | 31.5 | 2.6 |
| 90 | 35.4 | 3.0 |
| 92 | 36.2 | 3.0 |
| 98 | 38.5 | 3.2 |
| 100 | 39.3 | 3.3 |
| 104 | 40.9 | 3.4 |
| 110 | 43.3 | 3.6 |
| 116 | 45.6 | 3.8 |
| 120 | 47.2 | 3.9 |
| 122 | 48 | 4.0 |
| 128 | 50.4 | 4.2 |
| 130 | 51.2 | 4.3 |
| 134 | 52.7 | 4.4 |
| 140 | 55.1 | 4.6 |
| 146 | 57.4 | 4.8 |
| 150 | 59 | 4.9 |
| 152 | 59.8 | 5.0 |
Nature School Staple