Product Details
Waterproof and exceptionally warm, these Muddy Puddles ski gloves for active kids who love the snow are sure to be a perfect choice whether skiing or making snowballs at home or school.
Pair with: Print matched the Blizzard Ski jacket
Resilient: Quality waterproof fabric that is machine washable
Velcro: Velcro straps are added to allow easy adjustments to achieve a tight fit
Perfect for snowballs: Well designed gloves with rubber palms for added sturdiness
Improved grip: Greater sense of touch when they're out discovering the joys of the world of nature.
Long Cuff: Snow won't be able to get in underneath the sleeves
Water Column: 5,000mm
Material:
100% polyester
Washing instructions:
Machine washable
Country of Origin:
China
Style #:
MPBSGP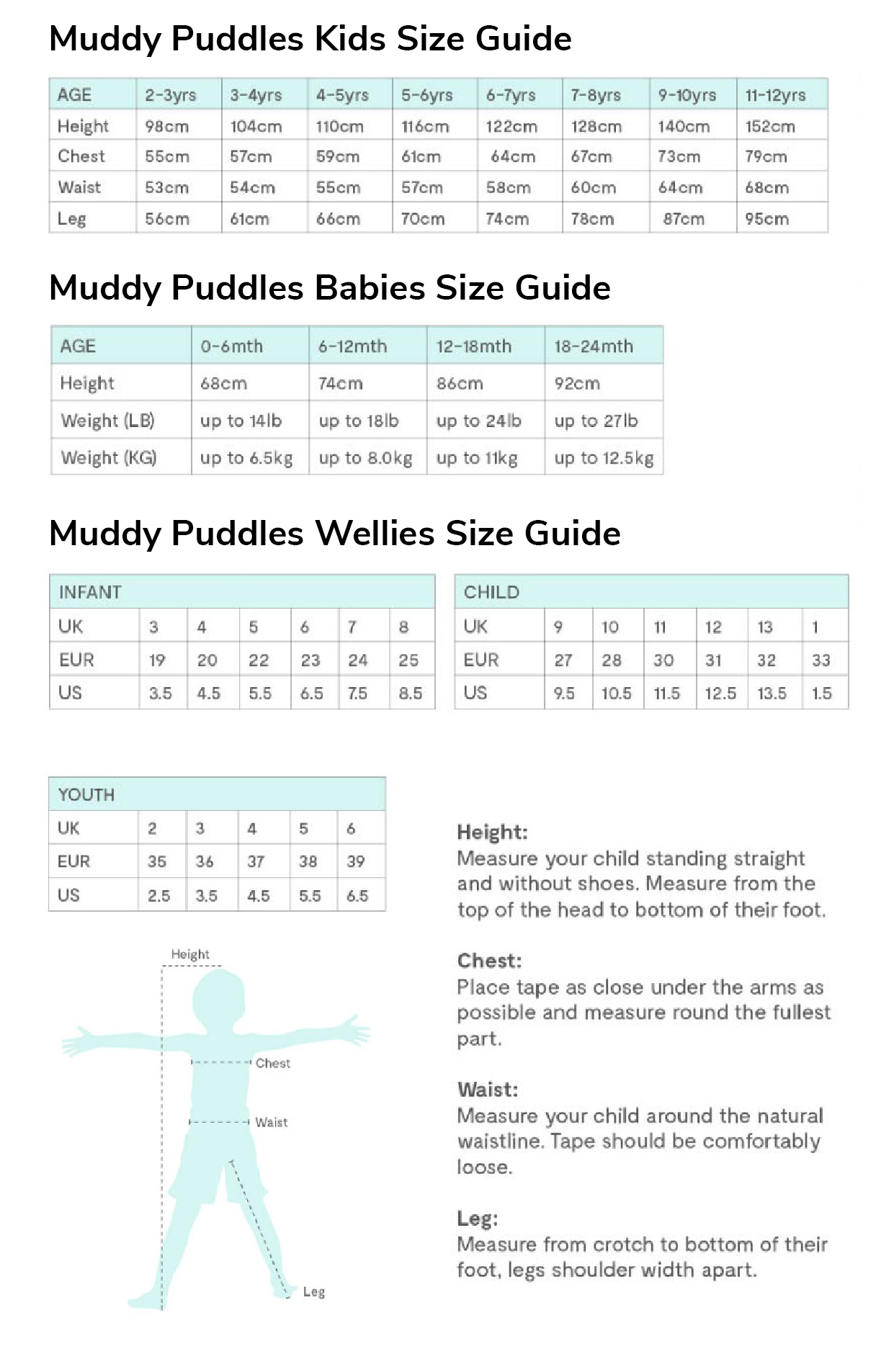 Sizing tip: We often use European sizing along with US sizing to help guide you to the right fit. In many cases, if you know your child's height, this actually can help guide you better than age. We did the work for you so you do not have to convert- use this chart to find their height. Outerwear is made to layer over clothes- getting this right should be all the work you need to do. When looking at boots, use current tennis shoe sizing. Boot sizes are in T (Toddler) and Y (Youth)- not by age.
| | | |
| --- | --- | --- |
| CM | Inches | Feet |
| 80 | 31.5 | 2.6 |
| 90 | 35.4 | 3.0 |
| 92 | 36.2 | 3.0 |
| 98 | 38.5 | 3.2 |
| 100 | 39.3 | 3.3 |
| 104 | 40.9 | 3.4 |
| 110 | 43.3 | 3.6 |
| 116 | 45.6 | 3.8 |
| 120 | 47.2 | 3.9 |
| 122 | 48 | 4.0 |
| 128 | 50.4 | 4.2 |
| 130 | 51.2 | 4.3 |
| 134 | 52.7 | 4.4 |
| 140 | 55.1 | 4.6 |
| 146 | 57.4 | 4.8 |
| 150 | 59 | 4.9 |
| 152 | 59.8 | 5.0 |
Nature School Staple
Velcro Adjusters
Recycled Materials
Reinforced palm
Reflective Detail