Product Details
Manufactured from premium quality recycled fabrics, this eco-friendly jacket is both functional and stylish, keeping your little one extremely comfortable and ultra-warm with no added bulk while they enjoy the natural world around them thanks to innovative featherless insulation technology. With a lightweight construction, this puffer jacket also boasts welded, fully taped seams and a waterproof zip, so your child can enjoy optimal protection during the heaviest rain and snow storms. Perfect for wear during all types of outdoor activities thanks to an impressive capability to wick moisture away, this colorful jacket keeps little explorers comfortable no matter how active they might be. This versatile and practical puffer jacket can not only be worn on rainy days, but is ideal for drier days and, of course, snowy days too. Detachable recycled polar fleece lined hood offers flexibility and convenience. This jacket also boasts reflective detailing in the zip pulls to improve your little one's safety on dark, short days while its bright color makes your child easier to spot. Featuring secure pockets to store any small items your child may collect during outdoor adventures, this jacket is also fully machine washable meaning messy play in the mud and dirt can actively be encouraged!
Water resistancy: Waterproof to 10000mm for all-day play in moderate rain.
Breathable: Prevents kids from overheating when racing around outdoors.
Ultra warm: Fleece lined featuring an ultra light featherless insulation.
Cuffs: Elasticized cuffs for protection from wind, snow and rain.
Taped seam: Taped seams for added waterproofing
Pockets: Zip pockets to keep their treasures safe
Safety: Detachable hood and reflective zippers for added safety
Water Column: to 10000mm
Material:
Outer: recycled PU fabric with welded seams. Hood lining: 100% recycled polar fleece
Washing instructions:
Machine wash cold on gentle with closed zippers.
Country of Origin:
China
Style #:
MPPJ22B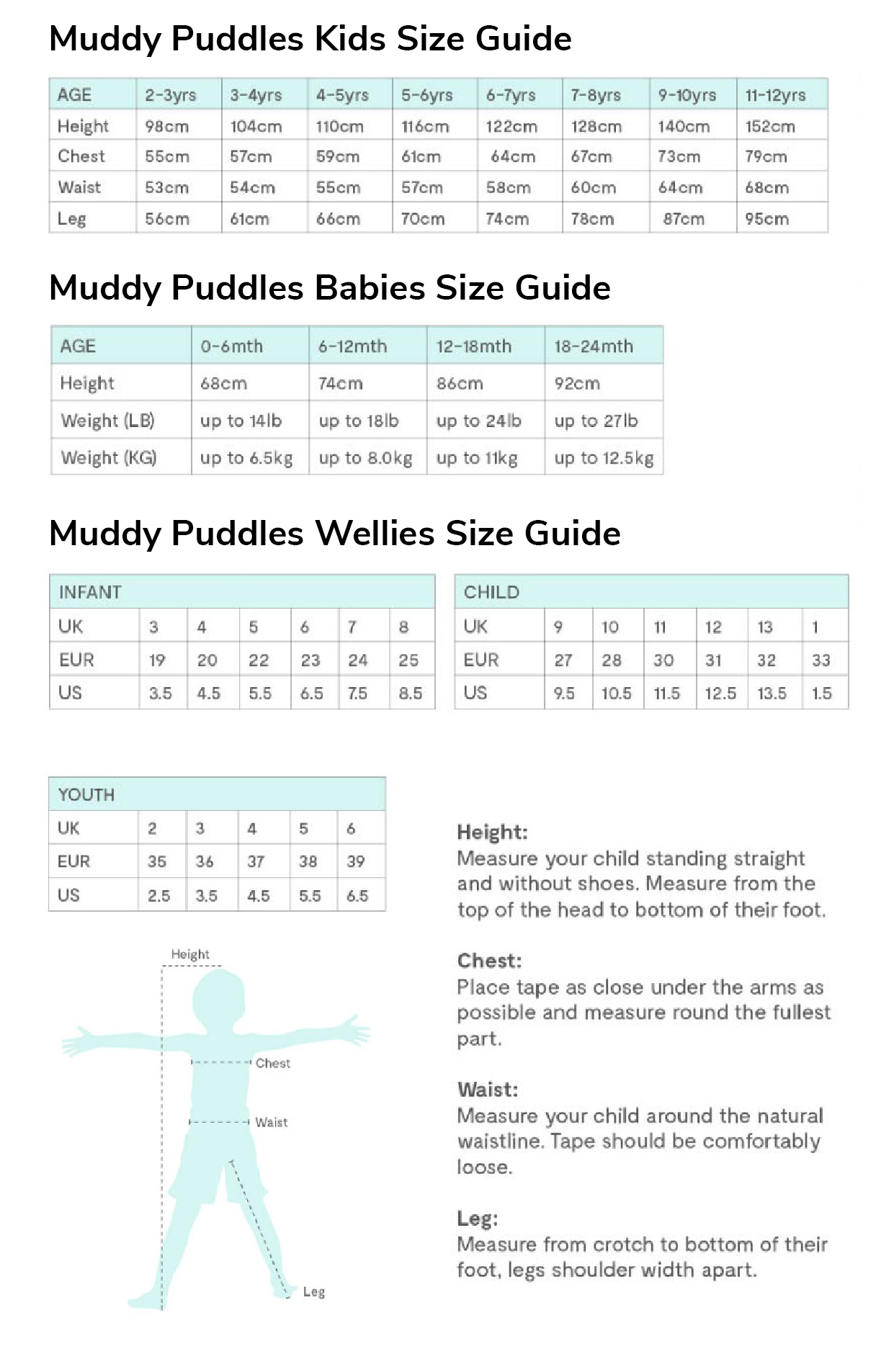 Sizing tip: We often use European sizing along with US sizing to help guide you to the right fit. In many cases, if you know your child's height, this actually can help guide you better than age. We did the work for you so you do not have to convert- use this chart to find their height. Outerwear is made to layer over clothes- getting this right should be all the work you need to do. When looking at boots, use current tennis shoe sizing. Boot sizes are in T (Toddler) and Y (Youth)- not by age.
| | | |
| --- | --- | --- |
| CM | Inches | Feet |
| 80 | 31.5 | 2.6 |
| 90 | 35.4 | 3.0 |
| 92 | 36.2 | 3.0 |
| 98 | 38.5 | 3.2 |
| 100 | 39.3 | 3.3 |
| 104 | 40.9 | 3.4 |
| 110 | 43.3 | 3.6 |
| 116 | 45.6 | 3.8 |
| 120 | 47.2 | 3.9 |
| 122 | 48 | 4.0 |
| 128 | 50.4 | 4.2 |
| 130 | 51.2 | 4.3 |
| 134 | 52.7 | 4.4 |
| 140 | 55.1 | 4.6 |
| 146 | 57.4 | 4.8 |
| 150 | 59 | 4.9 |
| 152 | 59.8 | 5.0 |
Non-toxic
Nature School Staple
Forest School Approved
Taped Seams
Welded Seams
Recycled Materials
Elastic Cuffs
Reflective zipper