Product Details
The Originals collection from Muddy Puddles has grown into a UK forest school staple. The all-in-one design has been a best seller and clasics for over 20 years. Made from durable nylon it is made to last and pass on. The original all-in-one rain suit is meant to keep water and dirt out and young explorers moving whatever the weather.
All-in-One: Water resistant and windproof
Protective: Protects from rain, wind and mud all year round
Foot Straps: Adjustable underfoot stirrups with elasticized hem
Storm-flap: Sturdy zip with double storm-flap protection
Comfortable: Unlined so you can wear comfortably over clothing or functional layers.
Hood: Integrated elasticized hood
Fit: Elasticized back area and cuffs for comfortable fit and maximum dryness
Water Column: 5,000mm
Material:
100% Oxford nylon
Washing instructions:
Machine wash on delicate inside out. Tumble dry no heat or line dry to preserve longevity of garment.
Style #:
OA1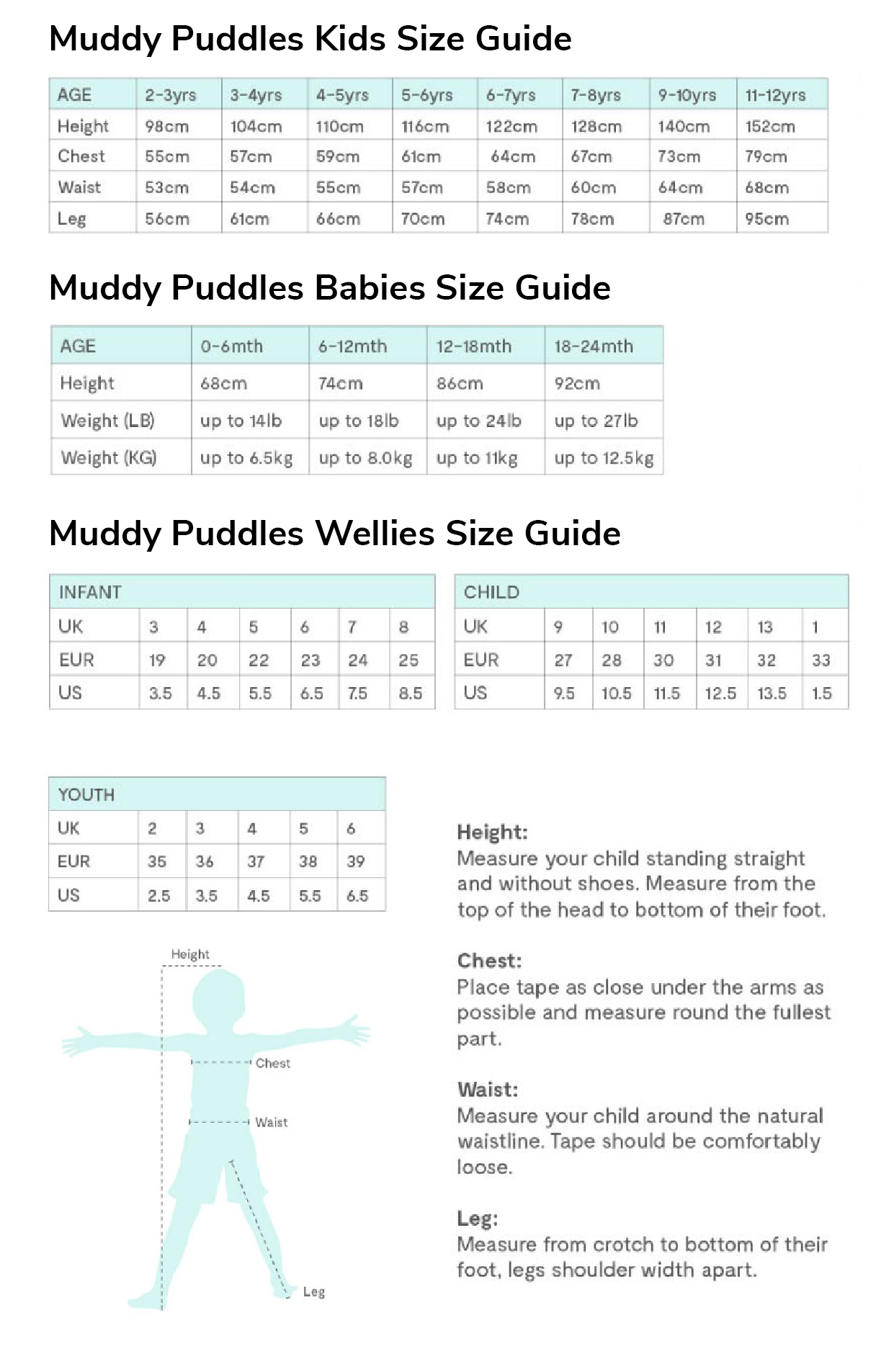 Sizing tip: We often use European sizing along with US sizing to help guide you to the right fit. In many cases, if you know your child's height, this actually can help guide you better than age. We did the work for you so you do not have to convert- use this chart to find their height. Outerwear is made to layer over clothes- getting this right should be all the work you need to do. When looking at boots, use current tennis shoe sizing. Boot sizes are in T (Toddler) and Y (Youth)- not by age.
| | | |
| --- | --- | --- |
| CM | Inches | Feet |
| 80 | 31.5 | 2.6 |
| 90 | 35.4 | 3.0 |
| 92 | 36.2 | 3.0 |
| 98 | 38.5 | 3.2 |
| 100 | 39.3 | 3.3 |
| 104 | 40.9 | 3.4 |
| 110 | 43.3 | 3.6 |
| 116 | 45.6 | 3.8 |
| 120 | 47.2 | 3.9 |
| 122 | 48 | 4.0 |
| 128 | 50.4 | 4.2 |
| 130 | 51.2 | 4.3 |
| 134 | 52.7 | 4.4 |
| 140 | 55.1 | 4.6 |
| 146 | 57.4 | 4.8 |
| 150 | 59 | 4.9 |
| 152 | 59.8 | 5.0 |
Nature School Staple
Farm School Go-To
Fully Taped Seams
Elastic Cuffs and Ends