Product Details
No matter what age you are, there's no greater outdoor fun than jumping in puddles! Our friends at the UK brand Muddy Puddles would agree which is why they have created the PuddleStomper Wellies for young adventurers. The PuddleStomper Wellies feature a deeply cleated sole which helps to prevent little feet from slipping in the mud and on slick surfaces. And the extra-tall height provides more protection from water splashing over the top. It is the little details that make all the difference and allow your child to simply relax and have fun at outdoor school. Designed specifically for wet weather use, these wellies are made from long-lasting rubber with a reflective strip for extra visibility in low light conditions. Inside there is a soft cushioned inner and thick padding so long walks can be enjoyed in the rain without any complaints!
Comfortable: Soft padded insoles for extra comfort
Length: Extra Tall for better waterproof protection
Lining: Soft cotton lining
Reflective: Reflective strip for high visibility
Anti-Slip: Cleated, grippy soles to help prevent slipping
Material:
100% Rubber
Washing instructions:
Wipe Clean with a sponge cloth
Country of Origin:
China
Style #:
PSWBH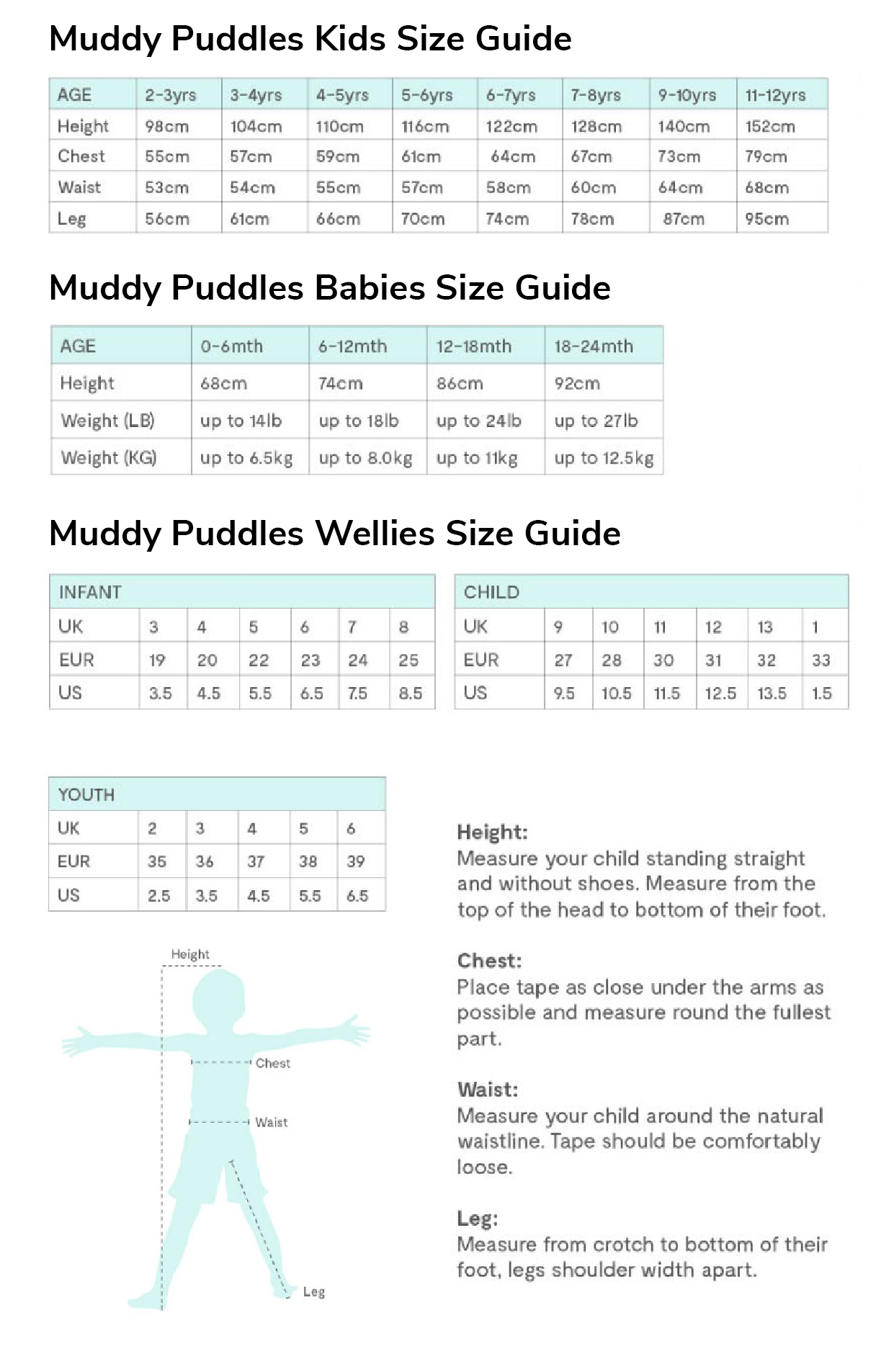 Sizing tip: We often use European sizing along with US sizing to help guide you to the right fit. In many cases, if you know your child's height, this actually can help guide you better than age. We did the work for you so you do not have to convert- use this chart to find their height. Outerwear is made to layer over clothes- getting this right should be all the work you need to do. When looking at boots, use current tennis shoe sizing. Boot sizes are in T (Toddler) and Y (Youth)- not by age.
| | | |
| --- | --- | --- |
| CM | Inches | Feet |
| 80 | 31.5 | 2.6 |
| 90 | 35.4 | 3.0 |
| 92 | 36.2 | 3.0 |
| 98 | 38.5 | 3.2 |
| 100 | 39.3 | 3.3 |
| 104 | 40.9 | 3.4 |
| 110 | 43.3 | 3.6 |
| 116 | 45.6 | 3.8 |
| 120 | 47.2 | 3.9 |
| 122 | 48 | 4.0 |
| 128 | 50.4 | 4.2 |
| 130 | 51.2 | 4.3 |
| 134 | 52.7 | 4.4 |
| 140 | 55.1 | 4.6 |
| 146 | 57.4 | 4.8 |
| 150 | 59 | 4.9 |
| 152 | 59.8 | 5.0 |
Nature School Staple
Farm School Go-To
Forest School Approved
Reflective Details