Product Details
This is a light, warm and soft kids jacket that looks like a knit yet has all the benefits of fleece: it feels comfortable and is stretchy, breathable and dries quickly by transporting moisture away from the body. Hopper mid layer warm coat is equipped with a full-length zipper to make dressing easier and has a chin guard that protects the neck and chin from being scratched by the zip. The longer back hem gives added coverage. This kids fleece jacket is ideal under outerwear during frosty winter days but is great for wearing indoors, too! Room to Grow:All Reima products run about one size larger than traditional US sizes so ordering your childs current size is like ordering a size up.
Perfect mid layer: Soft melange knit fleece
Quick dry: Wicks moisture away from body
Recycled: Contains certified recycled fibers
Hems: Elastic binding on collar, sleeve ends and hem for comfy fit
Zipper: Full-length zip with chin guard
Front pockets: To store their forest finds
Longer back hem: Provides more coverage from the elements
Material:
90% recycled polyester, 10% polyester
Washing instructions:
Wash with similar colors, inside out. Close zippers when washing.
Country of Origin:
China
Style #:
5200050A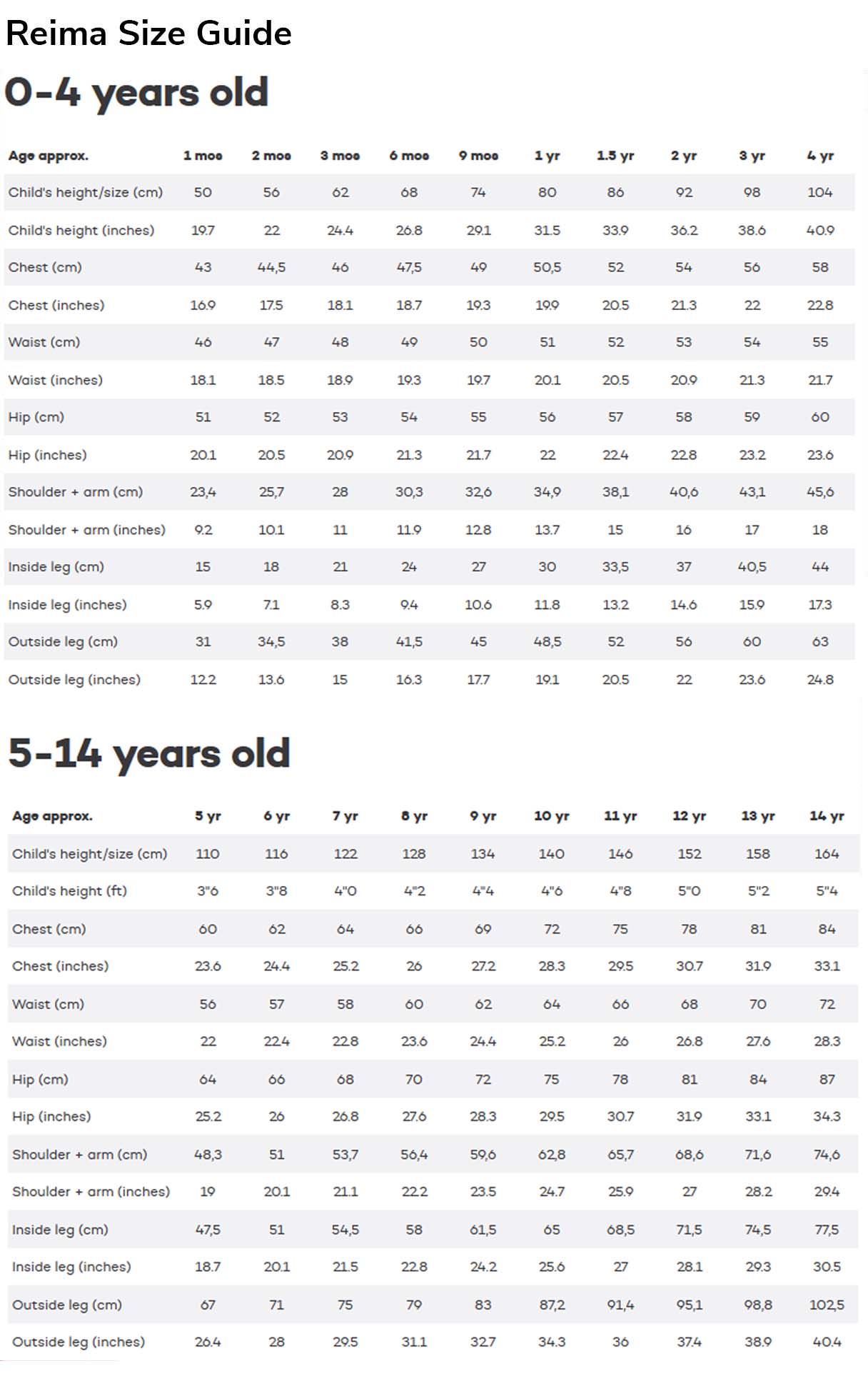 Sizing tip: We often use European sizing along with US sizing to help guide you to the right fit. In many cases, if you know your child's height, this actually can help guide you better than age. We did the work for you so you do not have to convert- use this chart to find their height. Outerwear is made to layer over clothes- getting this right should be all the work you need to do. When looking at boots, use current tennis shoe sizing. Boot sizes are in T (Toddler) and Y (Youth)- not by age.
| | | |
| --- | --- | --- |
| CM | Inches | Feet |
| 80 | 31.5 | 2.6 |
| 90 | 35.4 | 3.0 |
| 92 | 36.2 | 3.0 |
| 98 | 38.5 | 3.2 |
| 100 | 39.3 | 3.3 |
| 104 | 40.9 | 3.4 |
| 110 | 43.3 | 3.6 |
| 116 | 45.6 | 3.8 |
| 120 | 47.2 | 3.9 |
| 122 | 48 | 4.0 |
| 128 | 50.4 | 4.2 |
| 130 | 51.2 | 4.3 |
| 134 | 52.7 | 4.4 |
| 140 | 55.1 | 4.6 |
| 146 | 57.4 | 4.8 |
| 150 | 59 | 4.9 |
| 152 | 59.8 | 5.0 |
Oeko-Tex Standard 100
Nature School Staple
Forest School Approved
Recycled Materials
Elastic Cuffs