Product Details
Meet our newest addition from Reima of Finland, the softshell pant. Kuori is translated as peel from the Finnish, expressing very well the way in which these flexible pants protect our kids. The elastic, bonded material in Kuori pants repels dirt and keeps wetness at bay. For easy dressing, the interior is of smooth jersey. Your child will enjoy the comfort and easy protection from the weather outdoors that these technical pants provide. Reima's softshell material is loved for its wearability, kids appreciating its lightness, flexibility and comfort.
Details: Waterproof, windproof yet breathable
Material: Bonded material, jersey on reverse
Finish: Fluorocarbon-free water and dirt repellent finish Bionic Finish Eco
Adjustable: Waist adjustment inside
Easy on/off: Elastic Waist
Keep Water Out: Elastic Leg Cuffs
Water column: 10000mm
Material:
88% polyester 12% elastane, polyurethane membrane
Washing instructions:
Wash separately inside out. Do not use fabric softener. Remove the garment after finished washing program to avoid color change.
Style #:
522263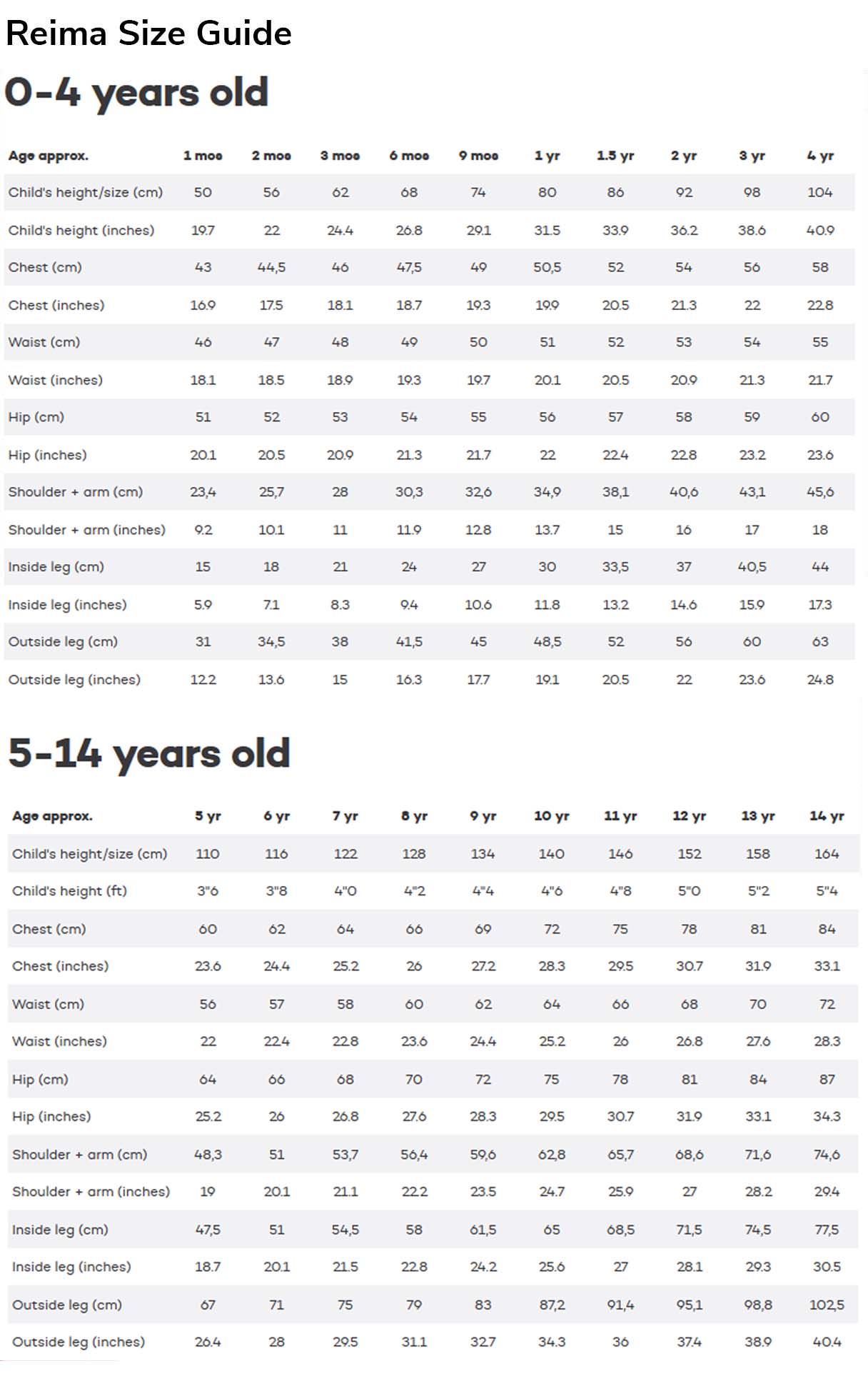 Sizing tip: We often use European sizing along with US sizing to help guide you to the right fit. In many cases, if you know your child's height, this actually can help guide you better than age. We did the work for you so you do not have to convert- use this chart to find their height. Outerwear is made to layer over clothes- getting this right should be all the work you need to do. When looking at boots, use current tennis shoe sizing. Boot sizes are in T (Toddler) and Y (Youth)- not by age.
| | | |
| --- | --- | --- |
| CM | Inches | Feet |
| 80 | 31.5 | 2.6 |
| 90 | 35.4 | 3.0 |
| 92 | 36.2 | 3.0 |
| 98 | 38.5 | 3.2 |
| 100 | 39.3 | 3.3 |
| 104 | 40.9 | 3.4 |
| 110 | 43.3 | 3.6 |
| 116 | 45.6 | 3.8 |
| 120 | 47.2 | 3.9 |
| 122 | 48 | 4.0 |
| 128 | 50.4 | 4.2 |
| 130 | 51.2 | 4.3 |
| 134 | 52.7 | 4.4 |
| 140 | 55.1 | 4.6 |
| 146 | 57.4 | 4.8 |
| 150 | 59 | 4.9 |
| 152 | 59.8 | 5.0 |
FC Free
Nature School Staple
Fully Taped Seams
Recycled Materials
Elastic Cuffs