Product Details
Reimatec Sorona is the latest innovation in our family of Reimatec fabrics. Partly plant-based, Sorona helps us reduce our carbon footprint. Its emissions are about a fifth smaller than those of regular polyester! Yet the items is as wonderfully waterproof as always. This new Lappohja jacket is ready for the adventures in any weather!
100% Waterproof: Waterproof, fully sealed seams
Seams: All seams sealed
Hood: Safe, detachable and adjustable hood
Pockets: Two zip pockets
Breathability Rating: 7000 g/m2
Water column: 10000mm
Material:
100% polyester, polyurethane lamination
Washing instructions:
Wash separately inside out. Close zippers and velcro tapes. Do not use detergents with bleaching agents. Do not use fabric softener. Remove the garment after finished washing program to avoid color change. Tumble drying or drying cabinet allowed (max
Style #:
521677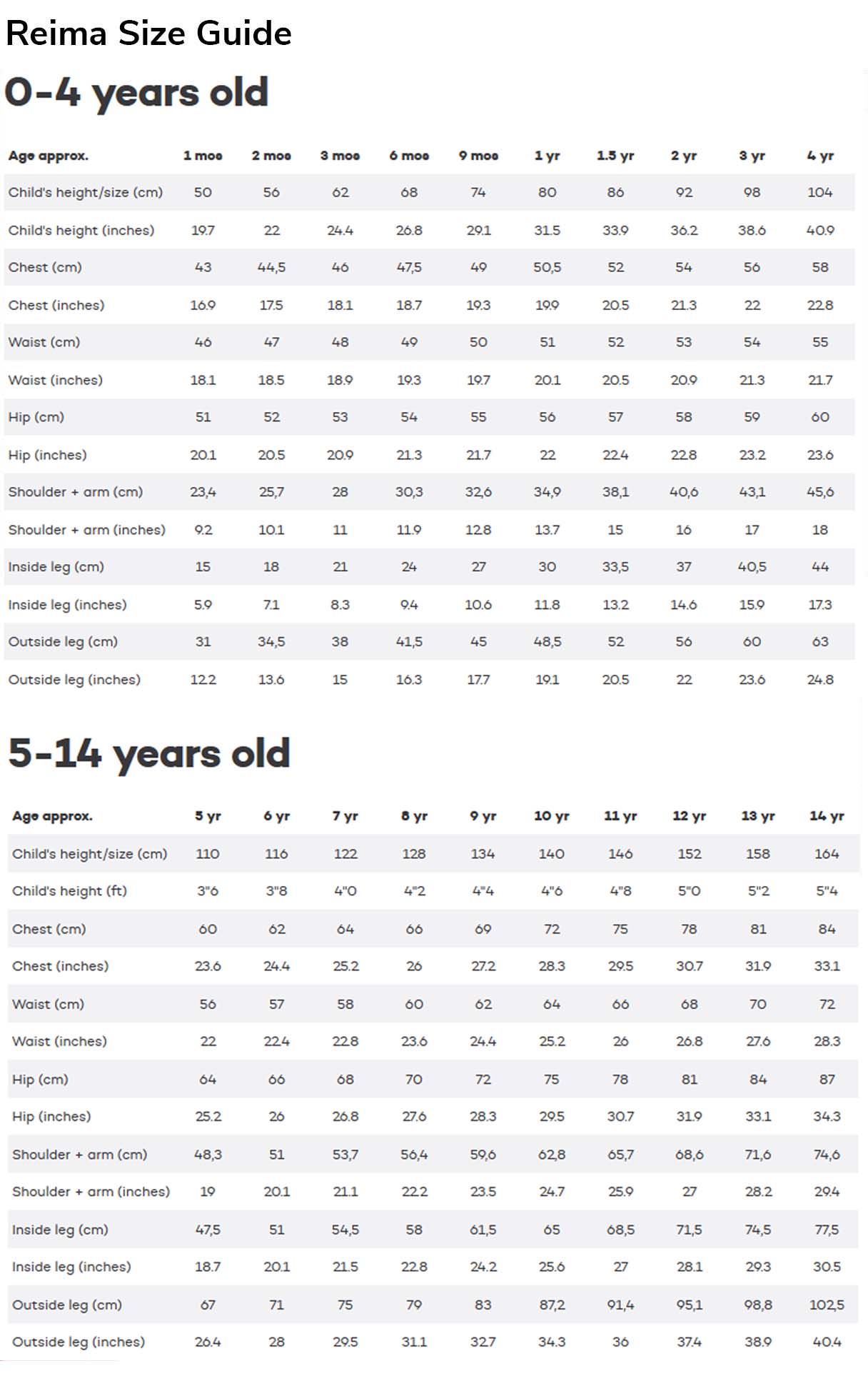 Sizing tip: We often use European sizing along with US sizing to help guide you to the right fit. In many cases, if you know your child's height, this actually can help guide you better than age. We did the work for you so you do not have to convert- use this chart to find their height. Outerwear is made to layer over clothes- getting this right should be all the work you need to do. When looking at boots, use current tennis shoe sizing. Boot sizes are in T (Toddler) and Y (Youth)- not by age.
| | | |
| --- | --- | --- |
| CM | Inches | Feet |
| 80 | 31.5 | 2.6 |
| 90 | 35.4 | 3.0 |
| 92 | 36.2 | 3.0 |
| 98 | 38.5 | 3.2 |
| 100 | 39.3 | 3.3 |
| 104 | 40.9 | 3.4 |
| 110 | 43.3 | 3.6 |
| 116 | 45.6 | 3.8 |
| 120 | 47.2 | 3.9 |
| 122 | 48 | 4.0 |
| 128 | 50.4 | 4.2 |
| 130 | 51.2 | 4.3 |
| 134 | 52.7 | 4.4 |
| 140 | 55.1 | 4.6 |
| 146 | 57.4 | 4.8 |
| 150 | 59 | 4.9 |
| 152 | 59.8 | 5.0 |
Nature School Staple
Farm School Go-To
Forest School Approved
Fully Taped Seams
FC-free BIONIC FINISH® ECO
Elastic Cuffs