Product Details
These lovely toddlers wool trousers keep little bottoms warm during cold weather and the brushed lining feels super soft against skin. Woollen trousers are a great choice underneath winter gear as they're breathable and help prevent kids from sweating. The ribbed hems help to guarantee a great fit and have a little room for growth. The decorative stitching gives a final stylish touch to these trousers. Team with the Mahin wool jacket for a super warm outfit! Room to Grow:All Reima products run about one size larger than traditional US sizes so ordering your childs current size is like ordering a size up.
Temp control: Wool is ideal for temperature control
No Rub: Soft, flat seams for extra comfort
Ribbed hems: Help guarantee fit and allow room to grow
Super warm: Soft, brushed reverse to give extra warmth and comfort
Elastic waist
Material:
80% Merino Wool, 20% Polyester
Washing instructions:
Wash with similar colors, inside out. Hang dry for best results or tumble dry no heat if needed. Small shrinkage may occur, but the item runs on the large side.
Country of Origin:
China
Style #:
5200039A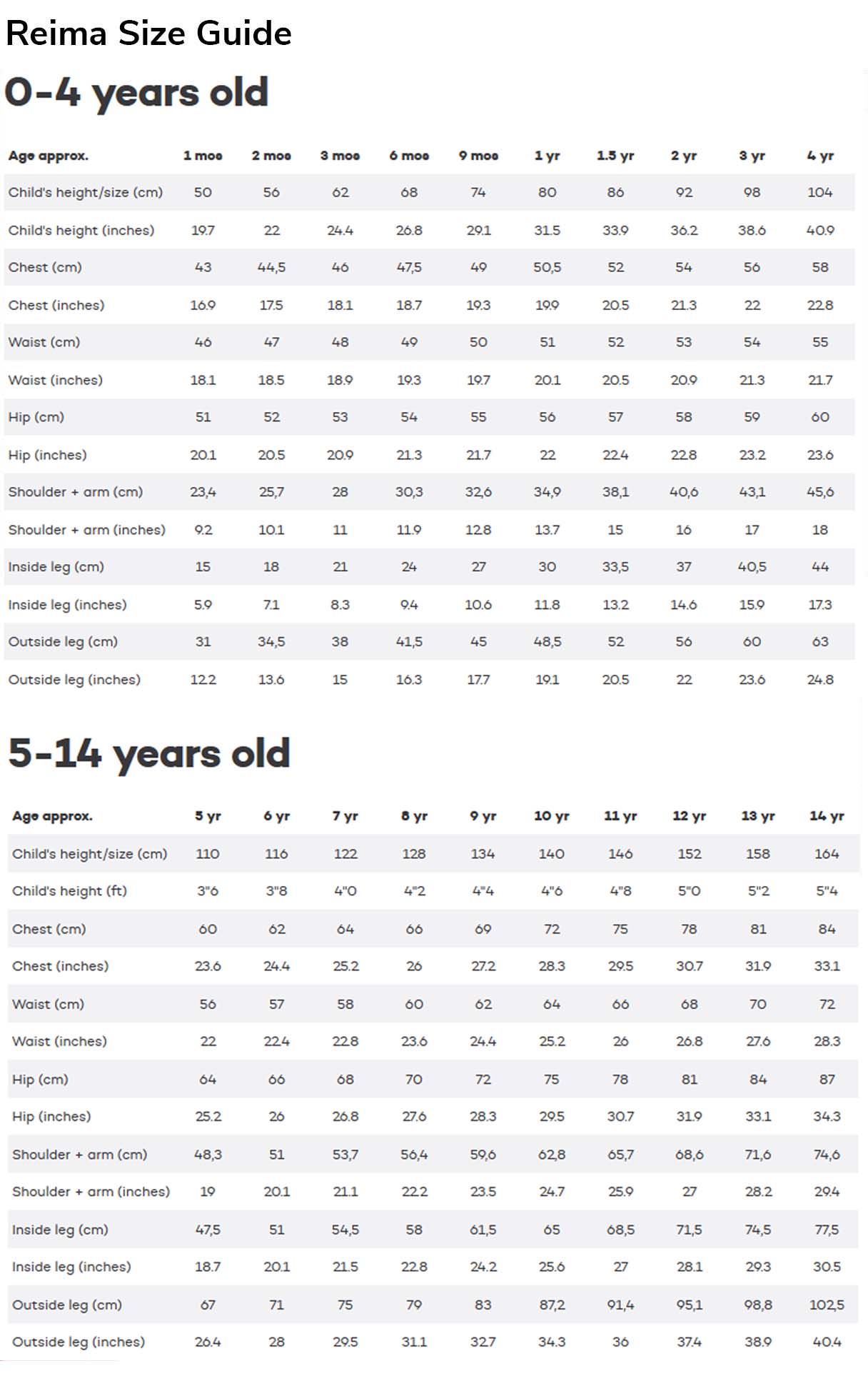 Sizing tip: We often use European sizing along with US sizing to help guide you to the right fit. In many cases, if you know your child's height, this actually can help guide you better than age. We did the work for you so you do not have to convert- use this chart to find their height. Outerwear is made to layer over clothes- getting this right should be all the work you need to do. When looking at boots, use current tennis shoe sizing. Boot sizes are in T (Toddler) and Y (Youth)- not by age.
| | | |
| --- | --- | --- |
| CM | Inches | Feet |
| 80 | 31.5 | 2.6 |
| 90 | 35.4 | 3.0 |
| 92 | 36.2 | 3.0 |
| 98 | 38.5 | 3.2 |
| 100 | 39.3 | 3.3 |
| 104 | 40.9 | 3.4 |
| 110 | 43.3 | 3.6 |
| 116 | 45.6 | 3.8 |
| 120 | 47.2 | 3.9 |
| 122 | 48 | 4.0 |
| 128 | 50.4 | 4.2 |
| 130 | 51.2 | 4.3 |
| 134 | 52.7 | 4.4 |
| 140 | 55.1 | 4.6 |
| 146 | 57.4 | 4.8 |
| 150 | 59 | 4.9 |
| 152 | 59.8 | 5.0 |
Forest School Approved
Flat lock seams
Elastic Leg Cuffs