Product Details
Can you imagine anything as fun as running in the rain but not getting wet? This kids rain jacket is made from a comfortable and flexible PVC-free material. Its seams are welded waterproof and it will not harden in frost, making it ideal for using all year round. Just add extra layers underneath for warmth! The safe, detachable hood also protects from heavy showers. A full-length zip front and lots of reflective details create a safe and dry jacket perfect for outdoor learning. Match this kids raincoat with Reimas waterproof trousers for fun times outdoors whatever the weather.
100% Waterproof: Waterproof, welded seams
Flexible material: Won't harden in the cold
Hood: Safe, detachable hood
Zipper: Front Zipper
Keep Water Out: Elastic Cuffs
Safety: Reflective Details
Seams: Welded seams
Water column: 10000mm
Material:
100% polyester, polyurethane coating
Washing instructions:
Wash separately inside out. Close zippers and velcro tapes. Do not use detergents with bleaching agents. Do not use fabric softener. Remove the garment after finished washing program to avoid color change. Dry in room temperature.
Style #:
521523A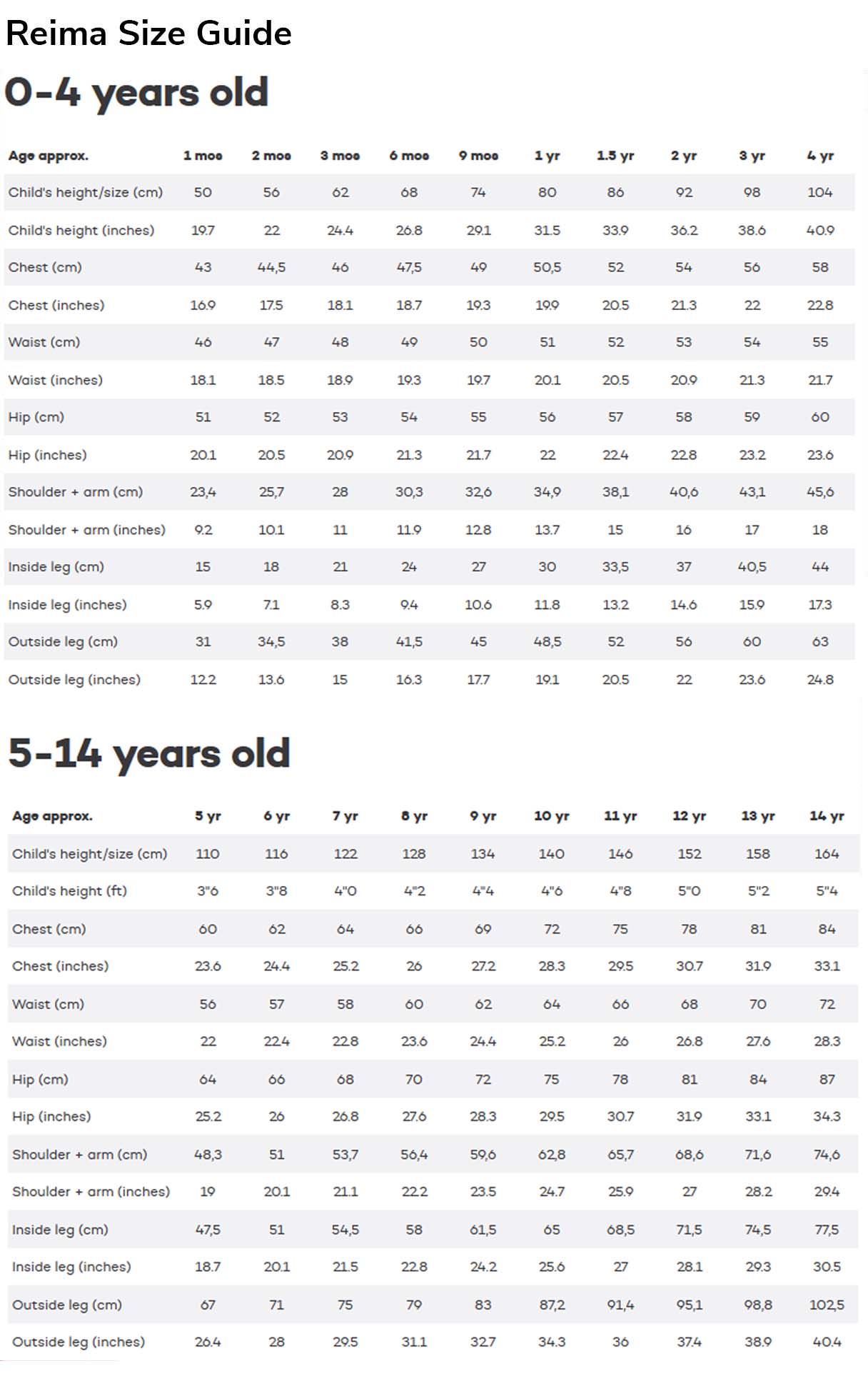 Sizing tip: We often use European sizing along with US sizing to help guide you to the right fit. In many cases, if you know your child's height, this actually can help guide you better than age. We did the work for you so you do not have to convert- use this chart to find their height. Outerwear is made to layer over clothes- getting this right should be all the work you need to do. When looking at boots, use current tennis shoe sizing. Boot sizes are in T (Toddler) and Y (Youth)- not by age.
| | | |
| --- | --- | --- |
| CM | Inches | Feet |
| 80 | 31.5 | 2.6 |
| 90 | 35.4 | 3.0 |
| 92 | 36.2 | 3.0 |
| 98 | 38.5 | 3.2 |
| 100 | 39.3 | 3.3 |
| 104 | 40.9 | 3.4 |
| 110 | 43.3 | 3.6 |
| 116 | 45.6 | 3.8 |
| 120 | 47.2 | 3.9 |
| 122 | 48 | 4.0 |
| 128 | 50.4 | 4.2 |
| 130 | 51.2 | 4.3 |
| 134 | 52.7 | 4.4 |
| 140 | 55.1 | 4.6 |
| 146 | 57.4 | 4.8 |
| 150 | 59 | 4.9 |
| 152 | 59.8 | 5.0 |
PVC Free
Nature School Staple
Farm School Go-To
Forest School Approved
Welded Seams
Contains Recycled Materials
Elastic Cuffs
Reflective Details