Product Details
This 2-piece unlined kids' rain set made by Finland's leading children's outerwear brand, is great for wet days in spring and fall -and when you add warm layers underneath, it will protect even during the chilliest weather. Welded, waterproof seams guarantee that no rain seeps through. Room to Grow: All Reima products run about one size larger than traditional US sizes so ordering your child's current size is like ordering a size up.
100% Waterproof with welded seams: This is an unlined shell meant to keep elements out
Two-piece outfit: Raincoat and suspender bibs
Boot straps: Detachable elastic boot straps
Cuffs: Elasticized sleeve and leg cuffs
Adjustable: Adjustable waist
Reflective: Reflecting details for added security
Not lined: This is a shell garment meant to protect you from the elements. Contains no insulation
Water Column: 10,000mm
Material:
100% polyester, polyurethane coating
Washing instructions:
Machine wash on delicate inside out. Tumble dry no heat or line dry to preserve longevity and waterproofness of garment. This washing advice is true for all outerwear across all brands. Do not use detergent with bleaching agent.
Style #:
513103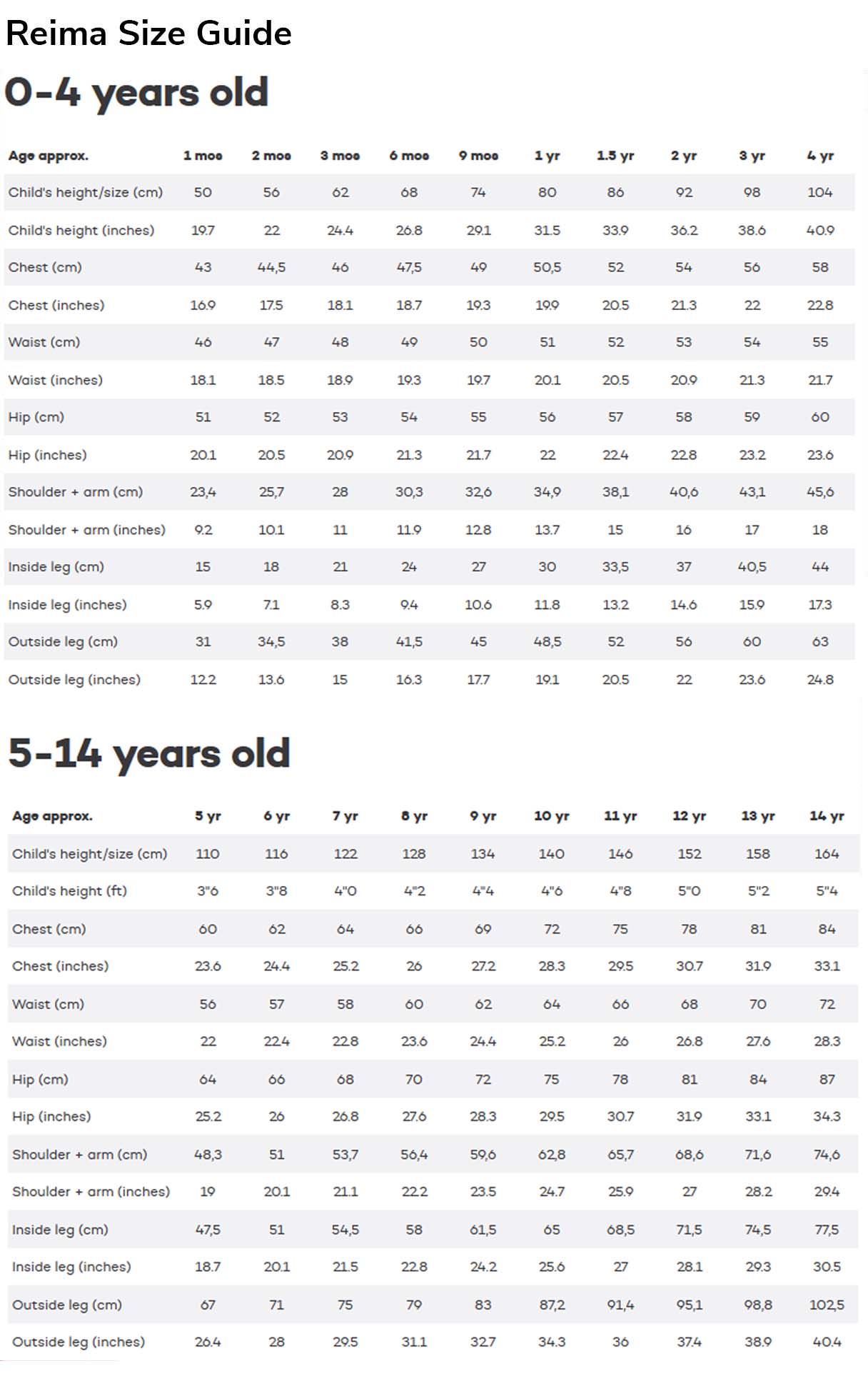 Sizing tip: We often use European sizing along with US sizing to help guide you to the right fit. In many cases, if you know your child's height, this actually can help guide you better than age. We did the work for you so you do not have to convert- use this chart to find their height. Outerwear is made to layer over clothes- getting this right should be all the work you need to do. When looking at boots, use current tennis shoe sizing. Boot sizes are in T (Toddler) and Y (Youth)- not by age.
| | | |
| --- | --- | --- |
| CM | Inches | Feet |
| 80 | 31.5 | 2.6 |
| 90 | 35.4 | 3.0 |
| 92 | 36.2 | 3.0 |
| 98 | 38.5 | 3.2 |
| 100 | 39.3 | 3.3 |
| 104 | 40.9 | 3.4 |
| 110 | 43.3 | 3.6 |
| 116 | 45.6 | 3.8 |
| 120 | 47.2 | 3.9 |
| 122 | 48 | 4.0 |
| 128 | 50.4 | 4.2 |
| 130 | 51.2 | 4.3 |
| 134 | 52.7 | 4.4 |
| 140 | 55.1 | 4.6 |
| 146 | 57.4 | 4.8 |
| 150 | 59 | 4.9 |
| 152 | 59.8 | 5.0 |
PVC Free
Forest School Approved
Welded Seams
Recycled Material
Elastic Cuffs and Ends
Reflective Details