Product Details
Delivering sleek style that stands out against the snow, the women's Bogs Whiteout Adjustable Calf boots keep your feet comfortable and dry in temperatures down to -58°F.
Boot Size: Boot shaft easily adjusts to fit different size calves
Details: 100% Waterproof
Construction: 7mm waterproof Neo-Tech insulation
Temp rated: Comfort rated from temperate to minus 58°F
Grip: GlacialGrip slip resistant out-sole for maximum traction on wintry surfaces
Durafresh: Odor protection for your feet
Bloom: Bogs is partnering with BLOOM to integrate algae-based EVA footbeds across our entire line.
Lining: Fleece lining for warmth and comfort
Material:
40% Rubber, 60% Textile
Washing instructions:
Wipe clean with damp cloth
Country of Origin:
Imported
Style #:
72695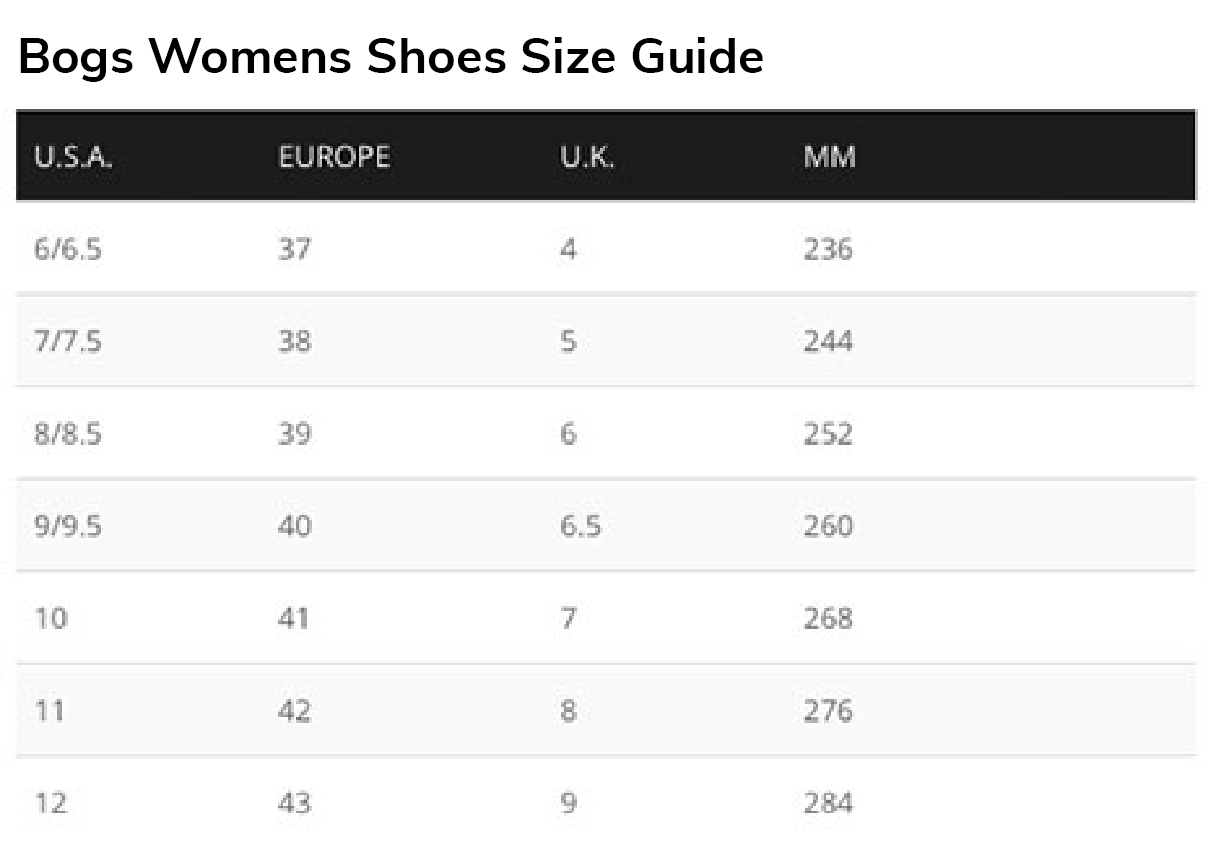 Sizing tip: We often use European sizing along with US sizing to help guide you to the right fit. In many cases, if you know your child's height, this actually can help guide you better than age. We did the work for you so you do not have to convert- use this chart to find their height. Outerwear is made to layer over clothes- getting this right should be all the work you need to do. When looking at boots, use current tennis shoe sizing. Boot sizes are in T (Toddler) and Y (Youth)- not by age.
| | | |
| --- | --- | --- |
| CM | Inches | Feet |
| 80 | 31.5 | 2.6 |
| 90 | 35.4 | 3.0 |
| 92 | 36.2 | 3.0 |
| 98 | 38.5 | 3.2 |
| 100 | 39.3 | 3.3 |
| 104 | 40.9 | 3.4 |
| 110 | 43.3 | 3.6 |
| 116 | 45.6 | 3.8 |
| 120 | 47.2 | 3.9 |
| 122 | 48 | 4.0 |
| 128 | 50.4 | 4.2 |
| 130 | 51.2 | 4.3 |
| 134 | 52.7 | 4.4 |
| 140 | 55.1 | 4.6 |
| 146 | 57.4 | 4.8 |
| 150 | 59 | 4.9 |
| 152 | 59.8 | 5.0 |
Non-toxic
PFC Free
PVC Free
Nature School Staple
Farm School Go-To
Forest School Approved