Product Details
Finish off your little one's beach outfit with the Muddy Puddles Sunhat in Blue Rainbow. A cute hat looks fabulous on little explorers, but it is not just about the style, a sunhat is an essential piece of UV protection. A chinstrap and toggle help to hold the sunhat in a comfy position so it won't fall off as your little one runs and plays.
Protection: The Muddy Puddles Sunhat offers UPF50+ and with a wide brim, provides maximum shelter from the sun's rays.
Recycled Materials: Fabric is made from recycled polyester.
Machine Washable: Easy wash and dry for this one!
Wear: Even on cloudy days, a sunhat is recommended for children to prevent damage from UV rays.
Fit: With a wide brim for maximum UV protection and a chin strap with a toggle.
Easy Design: Throw it in your bag so whenever the sun makes an appearance, you're ready with essential protection for your young adventurer.
Material:
100% Recycled polyester
Washing instructions:
Machine wash gentle. Hang dry
Country of Origin:
Made in China
Style #:
BRSUNH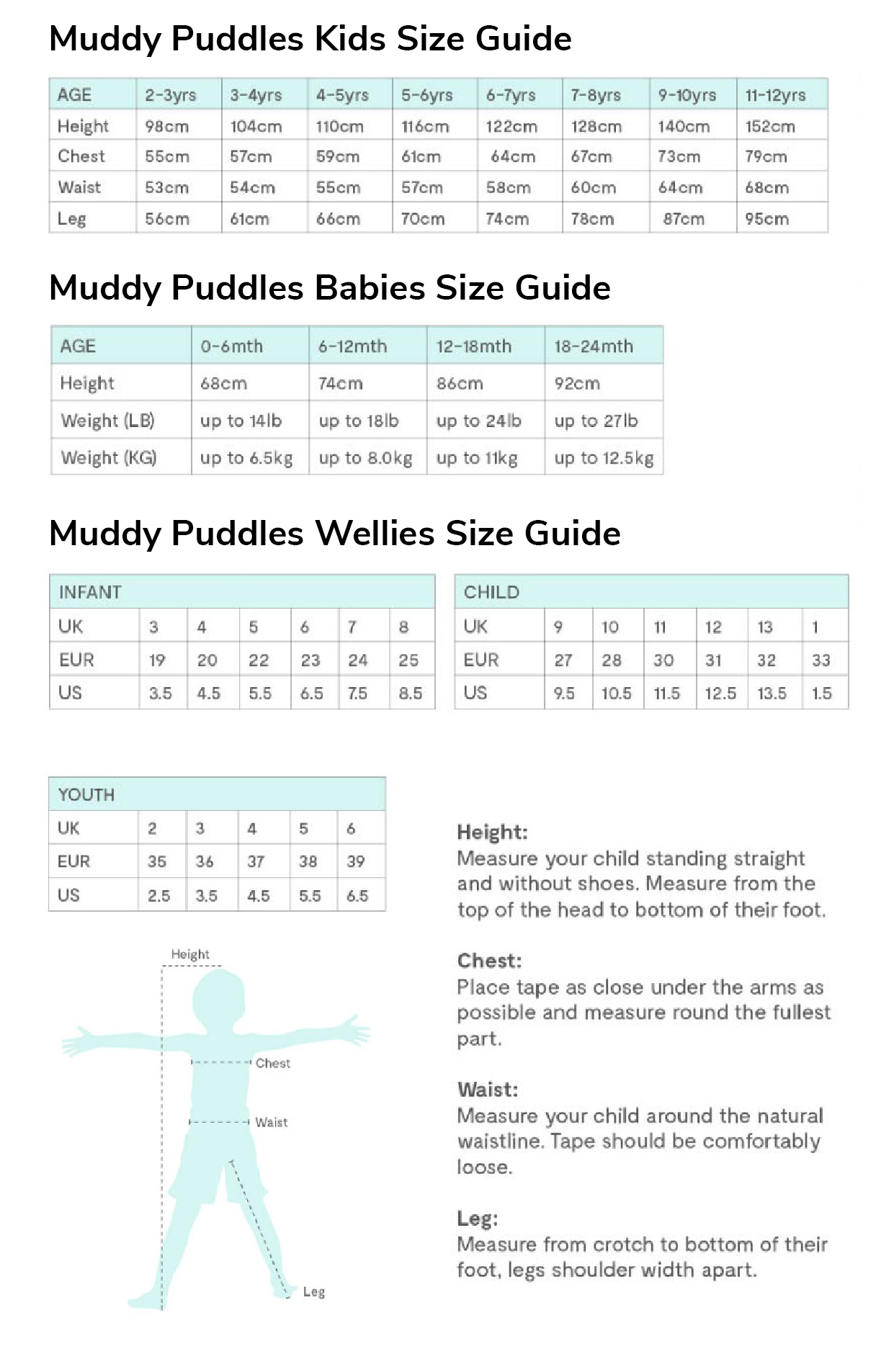 Sizing tip: We often use European sizing along with US sizing to help guide you to the right fit. In many cases, if you know your child's height, this actually can help guide you better than age. We did the work for you so you do not have to convert- use this chart to find their height. Outerwear is made to layer over clothes- getting this right should be all the work you need to do. When looking at boots, use current tennis shoe sizing. Boot sizes are in T (Toddler) and Y (Youth)- not by age.
| | | |
| --- | --- | --- |
| CM | Inches | Feet |
| 80 | 31.5 | 2.6 |
| 90 | 35.4 | 3.0 |
| 92 | 36.2 | 3.0 |
| 98 | 38.5 | 3.2 |
| 100 | 39.3 | 3.3 |
| 104 | 40.9 | 3.4 |
| 110 | 43.3 | 3.6 |
| 116 | 45.6 | 3.8 |
| 120 | 47.2 | 3.9 |
| 122 | 48 | 4.0 |
| 128 | 50.4 | 4.2 |
| 130 | 51.2 | 4.3 |
| 134 | 52.7 | 4.4 |
| 140 | 55.1 | 4.6 |
| 146 | 57.4 | 4.8 |
| 150 | 59 | 4.9 |
| 152 | 59.8 | 5.0 |
Nature School Staple
Farm School Go-To
Forest School Approved
Recycled Material
UPF 50 plus
Quick Dry