Product Details
Trek winter boots are warm, as they are designed for harsh Canadian winters. Made from extremely light weight vegan friendly materials, climbing and treking through the snow will be effortless for your child at outdoor school. Featuring grippy soles made for slippery terains, a wide opening for easy-on and unbeatable lightweight design, these insulated snow boots will keep your little explorer playing happy all day!
Strong and durable: 600D nylon and removable Radiantex lining
Warm feet: Cozy and soft fleece lining to keep feet warm
Lightweight: Lighter than a smartphone
Easy on and off: Wide opening for easy-on access and buckle closure to keep feet secure
Vegan: Vegan Friendly
Adjustable: Elastic and toggle at top to prevent snow and cold from getting in
Safe: Rugged soles provide grip
Material:
600 Denier Nylon upper. 100% Polyester Polar Fleece lining and XFS soles
Washing instructions:
Wipe outer surface clean. Hand wash and air dry lining
Style #:
WBHGRER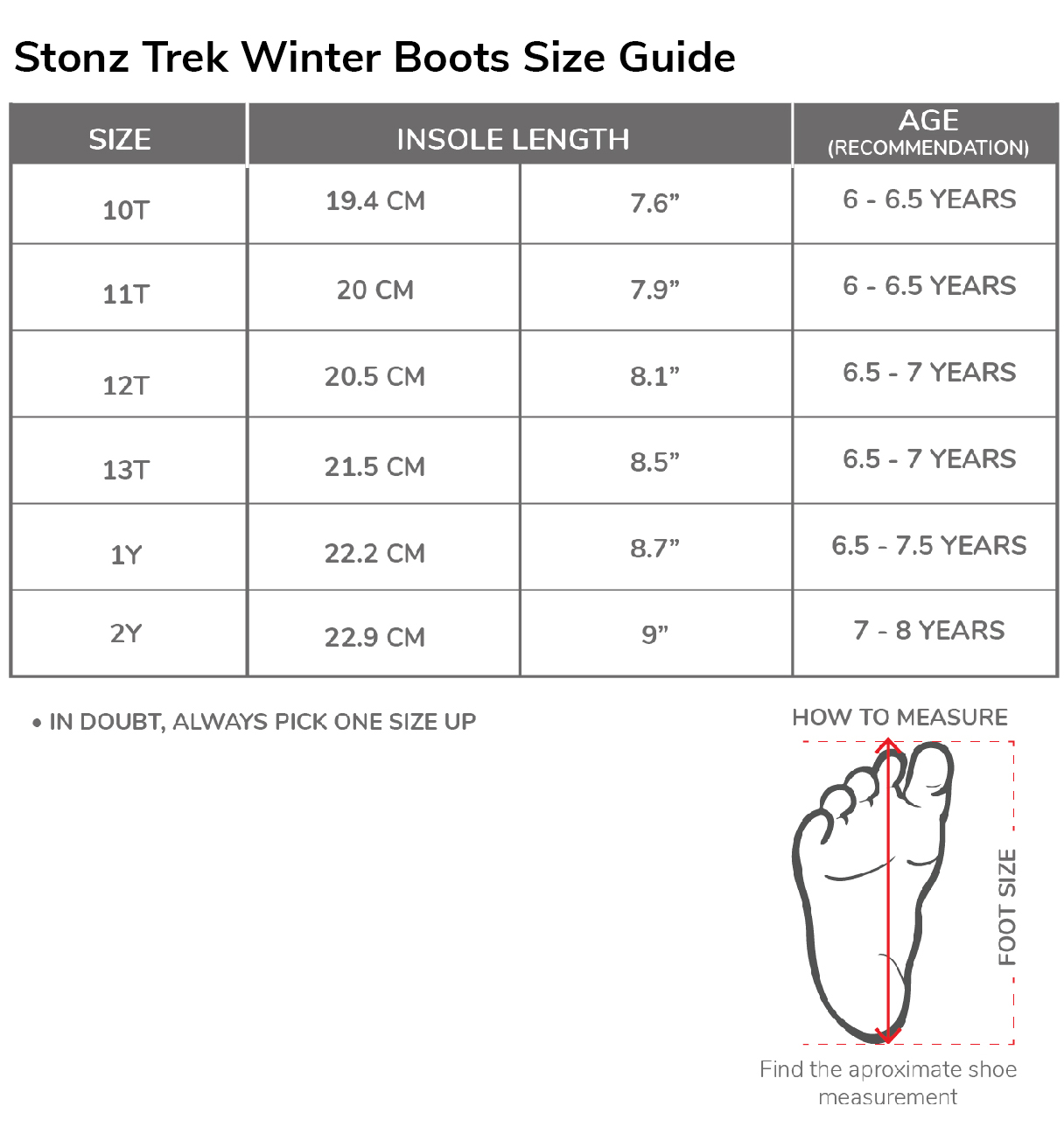 Sizing tip: We often use European sizing along with US sizing to help guide you to the right fit. In many cases, if you know your child's height, this actually can help guide you better than age. We did the work for you so you do not have to convert- use this chart to find their height. Outerwear is made to layer over clothes- getting this right should be all the work you need to do. When looking at boots, use current tennis shoe sizing. Boot sizes are in T (Toddler) and Y (Youth)- not by age.
| | | |
| --- | --- | --- |
| CM | Inches | Feet |
| 80 | 31.5 | 2.6 |
| 90 | 35.4 | 3.0 |
| 92 | 36.2 | 3.0 |
| 98 | 38.5 | 3.2 |
| 100 | 39.3 | 3.3 |
| 104 | 40.9 | 3.4 |
| 110 | 43.3 | 3.6 |
| 116 | 45.6 | 3.8 |
| 120 | 47.2 | 3.9 |
| 122 | 48 | 4.0 |
| 128 | 50.4 | 4.2 |
| 130 | 51.2 | 4.3 |
| 134 | 52.7 | 4.4 |
| 140 | 55.1 | 4.6 |
| 146 | 57.4 | 4.8 |
| 150 | 59 | 4.9 |
| 152 | 59.8 | 5.0 |
Non-Toxic
Vegan certified
Nature School Staple