Product Details
While wearing these new leggings, children can run, jump and play without getting too hot! The Jumppa leggings are made from an easy-care, quick-drying and moisture-wicking material that feels cool against skin. They are perfect for sports, camps and active outdoor play. The finishing treatment in Reimas Xylitol Cool material creates a cooling sensation against skin. It also makes the skin surface temperature drop by one to three degrees! The cooling effect is the result of using xylitol and erythritol, which are edible sweeteners, so it is harmless.
Cooling: Reima Xylitol Cool finishing treatment is based on Xylitol which gives a cooling effect during physical activity
Sun Protection: UV protection factor 40+
Length: Mid length
Activity: Ideal for sports and active play
Material:
91% polyester 9% elastane
Washing instructions:
Wash with similar colours, inside out. Do not use detergents with bleaching agents. Do not use fabric softener. Dry in room temperature.
Style #:
536698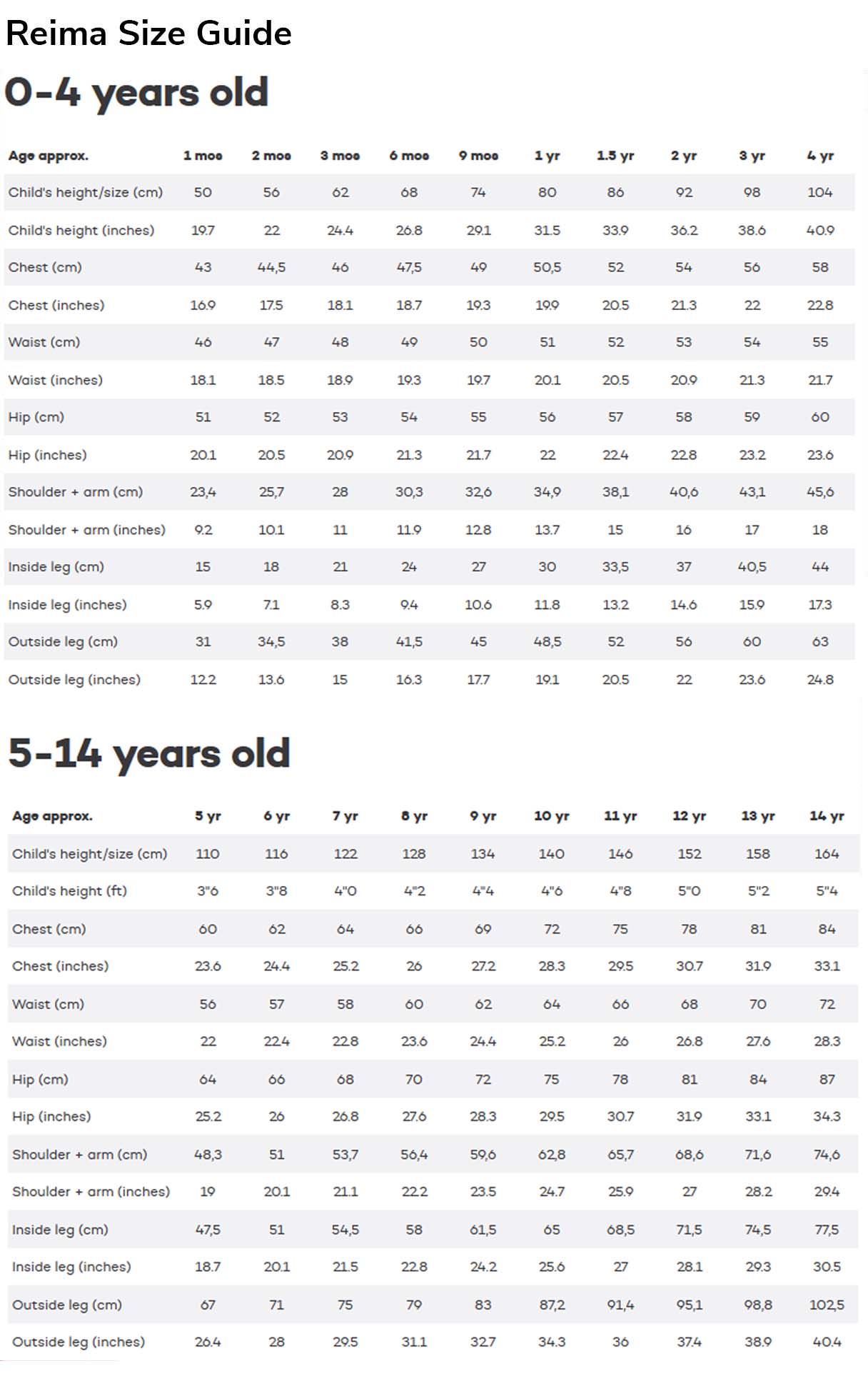 Sizing tip: We often use European sizing along with US sizing to help guide you to the right fit. In many cases, if you know your child's height, this actually can help guide you better than age. We did the work for you so you do not have to convert- use this chart to find their height. Outerwear is made to layer over clothes- getting this right should be all the work you need to do. When looking at boots, use current tennis shoe sizing. Boot sizes are in T (Toddler) and Y (Youth)- not by age.
| | | |
| --- | --- | --- |
| CM | Inches | Feet |
| 80 | 31.5 | 2.6 |
| 90 | 35.4 | 3.0 |
| 92 | 36.2 | 3.0 |
| 98 | 38.5 | 3.2 |
| 100 | 39.3 | 3.3 |
| 104 | 40.9 | 3.4 |
| 110 | 43.3 | 3.6 |
| 116 | 45.6 | 3.8 |
| 120 | 47.2 | 3.9 |
| 122 | 48 | 4.0 |
| 128 | 50.4 | 4.2 |
| 130 | 51.2 | 4.3 |
| 134 | 52.7 | 4.4 |
| 140 | 55.1 | 4.6 |
| 146 | 57.4 | 4.8 |
| 150 | 59 | 4.9 |
| 152 | 59.8 | 5.0 |
CE certification
Nature School Staple
Farm School Go-To
Forest School Approved
Recycled Materials
UV Protection 40+